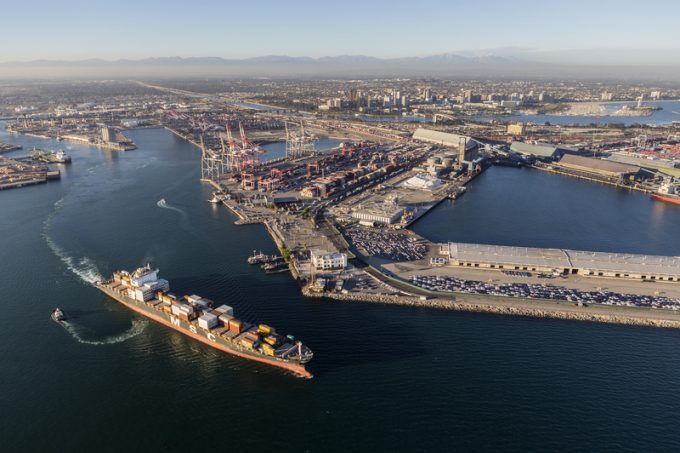 This year has been something of a rollercoaster ride for the Californian port of Long Beach.
Throughput dipped 6.9% in the first half, to rebound at a double-digit clip in the following months to a record-setting 806,603 teu handled in October.
And, like the nearby port of Los Angeles, Long Beach has struggled with the surge of imports, which exceeded predictions.
The situation was exacerbated by shortages of chassis and export containers, as well as restrictions imposed by the pandemic.
Overall, though, Long Beach has been doing fairly well, executive director Mario Cordero told The Loadstar, emphasising the importance of continuing infrastructure upgrades.
A major milestone was the opening of a new bridge in early October, a six-lane structure nearly two miles long that cost $1.47bn. It replaced a 52-year-old-structure that was too narrow and too low to accommodate today's trucking demands and the larger cargo vessels.
Mr Cordero referred to it as a "bridge to everywhere", noting that 15% of the nation's loaded imports pass over it.
Next in the pipeline is an on-dock rail support facility, a $870m project to expand and enhance a rail facility. Rail is a key focus of the port's capital projects, accounting for a large chunk of the $1.7bn investment funds as the port authority aims to raise the share of cargo that passes through by rail from 28% to 35%.
Digitisation is another strategic plank for the port. Mr Cordero said the industry had made significant progress on that front over the past five years and the use of APIs to book gate appointments and similar elements had proliferated.
He sees a role for the port "to move towards a platform where we integrate the various technologies so that we further visibility". The port's next step on this goal will be announced within weeks.
Mr Cordero says the port needs an "Amazon state of mind", which, he says, translates into efficiency, predictability and reliability to be able "to move containers out of the port complex faster to get to markets as soon as possible".
E-commerce has been one driver of the recent surge in imports through Long Beach and Los Angeles, as merchants wanted the fastest ocean transit times across the Pacific. This has slowed the migration of flows from Asia to ports on the US east and Gulf coasts.
Mr Cordero noted that the migration of sourcing from China to nations in South-east Asia was driven by the cost of production, primarily labour, and began before the trade tension with China. A second factor has been the effort of rival US ports to up their game and attract more traffic, he added.
"This is a highly competitive environment," he said.
Long Beach has two significant advantages: its location and a rail infrastructure that is "second to no other gateway", which results in faster transit times from Asia to US markets.
Mr Cordero, currently chairman of the Association of American Port Authorities, stressed that US ports needed more funding for infrastructure work. Political discussion has hitherto focused on support for the airline industry and bridges and other road infrastructure, he said.
Alongside a wave of imports, the situation at the port is still characterised by uncertainty, he said, pointing to question marks over the development of trade, as well as the US economy and consumer spending.
With the US presidential election out of the way, at least he sees some stability in the political arena. He hopes this will entail a reassessment of recent US trade policies. The current administration's use of tariffs, supposed to address the nation's trade deficit, had failed (the deficit with China has increased since 2016) and is still impacting $370bn worth of imports from China, he said.