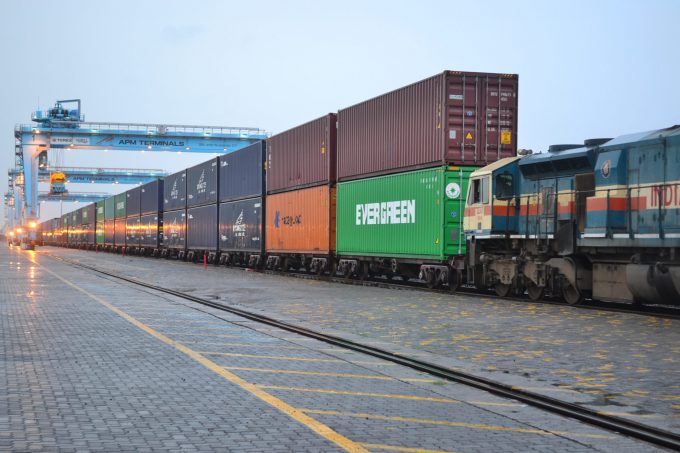 As value-added services increasingly occupy centre stage in long-haul freight contracts, bespoke inland services have now become a priority game for marine terminal operators and shipping lines in India.
APM Terminals Pipavav, a growing private harbour on India's west coast, has accelerated those efforts in recent weeks, rolling out customer-centric container rail services connecting to Jodhpur Inland Container Depot, a key interior point in the north.
After launching its first rail offering in September, Pipavav Rail Corporation (PRCL), a joint-venture between Gujarat Pipavav Port (GPPL) and Indian Railways, last week opened a regular double-stack, hub-and-spoke Jodhpur rail connection. GPPL owns and operates the Pipavav terminal.
APMT Pipavav said: "The initiative is likely to help the trade to connect with their markets quickly and competitively."
The company also noted that a hub-and-spoke model helped beneficial cargo owners gain access to other ICDs in India, along with the predictable advantages of shorter transits and time-definite delivery of their exports and imports.
"It's a weekly service, but not always double-stack," it told The Loadstar.
However, the chief alluring factor for double-stacked rail movements is higher carrying capacity per trip – generally 180 teu versus 90 teu for a normal haul.
Jakob Friis Sorenson, MD of APM Terminals Pipavav, said: "Customer centricity is at the core of all our initiatives. The rail connection to Jodhpur via Sanand on a hub-and-spoke model will give an edge to our customers."
As the industry evolves beyond "port-to-port" shipping services, container lines at main Indian ports are increasingly investing in double-stack block train offerings bundled with priority terminal handling, because of a ramp-to-ramp arrangement, thus making rails more appealing to hinterland shippers historically tied to the trucking mode.
For shippers using Pipavav, this premium inland mode, as against conventional off-terminal yard operations where trains operate on a first-in, first-out basis that often leads to turnaround delays, will have a significant positive impact on container flows, as ICD cargo contributes about 50% of the overall volume moved in and out of the port.
Pipavav is India's first public-private-partnership port venture with multipurpose cargo infrastructure. Located about 150 nautical miles from Jawaharlal Nehru Port Trust (Nhava Sheva), it is currently capable of handling 1.35m teu, as well as nes of dry bulk, 2m tonnes of liquid bulk cargo and about 250,000 finished cars, annually.