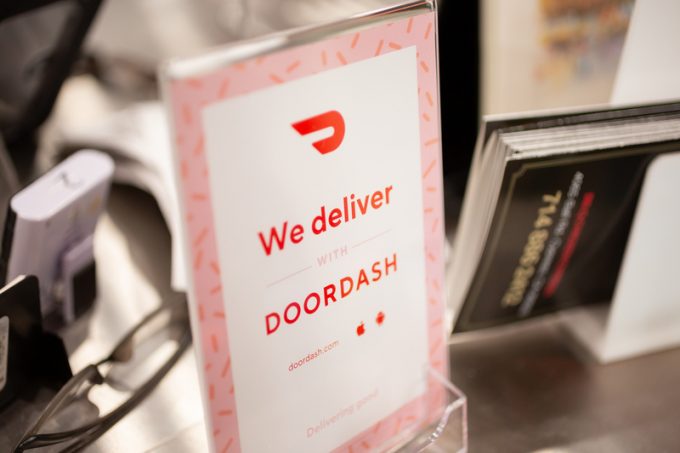 The largest restaurant delivery app in the US is changing direction. On 1 April, DoorDash announced partnerships with grocery chains, including 7-Eleven and CircleK, with a footprint of over 1,800 locations.
DoorDash will deliver household essentials from cleaning supplies and over-the-counter medicine to prepared foods and energy drinks.
The move had been in the works, but comes as DoorDash's previous niche is imploding and residential deliveries of groceries are rocketing.
"Given the changes and challenges so many are facing, we accelerated the launch of our Convenience category to offer critical supplies as delivery and pick-up are vital to consumers' well-being and the health of our local communities," said Mike Goldblatt, head of grocery partnerships at the San Francisco-based company.
The  move followed a day after US drugstore chain Walgreens announced a deal with Postmates to expand home deliveries to meet what Walgreens president Richard Ashworth described as "these challenging times".
American households are rapidly embracing online shopping for groceries. A Brick Meets Click/ShopperKit online grocery shopping survey at the end of March found that 31% of US households used online grocery shopping options during the month, with 26% reporting it was their first time. It also noted that last summer, the online grocery shopping rate for the US was 13%.
Other research, conducted last summer and published in January by Gallup, found that 81% of Americans had never ordered groceries online, and only 11% did so at least once a month.
But, since pandemic restrictions came into force, online grocery channels have been in overdrive to cope with the surge in traffic. Instacart, which has seen its volume shoot up more than 150% in recent weeks, has gone on a hiring spree to add 300,000 service positions.
Meanwhile, Amazon warned customers last month to expect delays and stock shortages for certain items and announced plans to recruit 100,000 staff in the US to meet demand.
However, those working for the two companies seem less upbeat. At an Amazon facility in Staten Island, New York, employees went on strike last week in protest at working conditions, after one of their colleagues tested positive for Covid-19, and demanded the closure of the building for two weeks and extensive sanitation work.
Instacart workers threatened to walk out if the company did not provide additional protective equipment, increased their remuneration and extended pay for workers impacted by the virus.
And business looks set to increase. The Brick Meets Click survey indicated that 30% of respondents who had not ordered groceries so far, described themselves as extremely likely to do so in the next three months if the Covid crisis continued, and 43% said they were likely to continue to use online grocery shopping once the crisis abates.
However, it remains to be seen if the pandemic will prove a turning point for online grocery shopping. The slow pace of proliferation pre-pandemic had been attributed primarily to challenging final-mile economics.
A month ago, Skipcart walked away from a contract with Walmart after the company's CEO declared that delivering groceries "doesn't work today, and it's not going to work six months from now".
Skipcart was the latest in a lengthy list of final-mile providers who abandoned collaboration with Walmart. In November ,the retail giant itself pulled the plug on its own fresh food deliveries in New York City through Walmart Jet, which it had acquired in 2016 for $3.3bn.