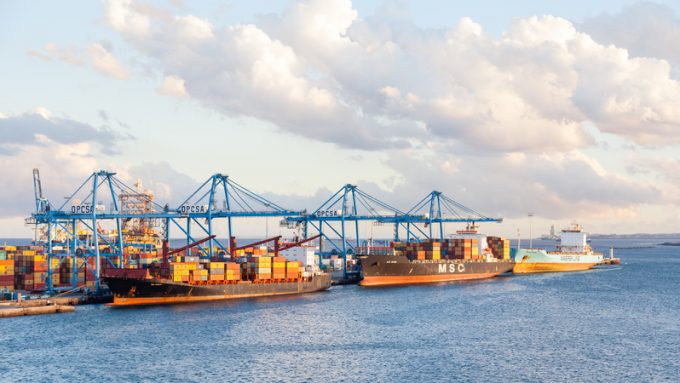 Already facing higher fuel costs, ocean carriers could now be hit by a rise in charter hire rates.
Container shipping lines are being obliged to pay higher daily hire rates for chartered vessels as the availability of tonnage falls to a new low.
Speaking during Maersk Group's 2017 Q4 earnings call last week, Maersk Line COO Soren Toft conceded that shipowners were finally beginning to regain the upper hand in charter party negotiations.
"We are seeing some pressure on the time charter rates, mainly as a result of the idle fleet being low," he said.
Indeed, according to the most recent survey by Alphaliner, idle container capacity has shrunk to 191,441 teu, representing just 0.9% of the global fleet.
"The idle fleet has dropped sharply in the past fortnight as carriers rushed to add capacity to take advantage of the high pre-lunar new year holiday demand in the Far East," said Alphaliner.
"Container vessel owners are confident that the charter market will maintain its positive momentum after the lunar new year, with an expected push in demand, which, considering the low availability of spot tonnage, should result in strengthening charter rates."
It noted that supply was "getting tight in the VLCS segment" of 7,500-11,000 teu ships, and that there were regions, such as the Atlantic, where there are "no ships available".
And, according to one broker source The Loadstar spoke to this week, if you can find a VLCS, "rates are high and conditions tough".
He said owners were "starting to get their revenge on carriers" that had "squeezed them" for so long.
Higher charter rates, and particularly less-flexible terms such as options and off-hire redeliveries, is bad news for Maersk Line's operating costs in particular, as it charters 48.8% of its 4.3m teu capacity.
However, the bottom line of its top-ranking peers could be even harder hit by the scarcity of prompt tonnage and rising charter hire rates. For example, MSC charters 65.4% of its 3.2m teu capacity, CMA CGM 62.6% of 2.5m teu and Cosco 69.9% of 1.9m teu.
Fifth in the carrier rankings, Hapag-Lloyd charters just 31.9% of its 1.5m teu capacity, thus if the market continues to rise, the German carrier will develop a cost-base advantage over its larger rivals.
Meanwhile, containership owners are deferring scrapping their older tonnage to take advantage of the market conditions. One of the biggest, Athens-based Danaos, reported an $84m profit for 2017, compared with a loss of $366m the year before, when it had been hit by impairments and the aftermath of the Hanjin bankruptcy.
Moreover, although Danaos has several ships with charters expiring this year, in the current climate it should not have too many problems in either extending these or finding new charterers.
According to the latest demolition report from London-based broker Braemar ACM, so far this year only five ships, for 13,000 teu, have been scrapped. This compares with 41 vessels, for 127,000 teu, at the same time in 2017.