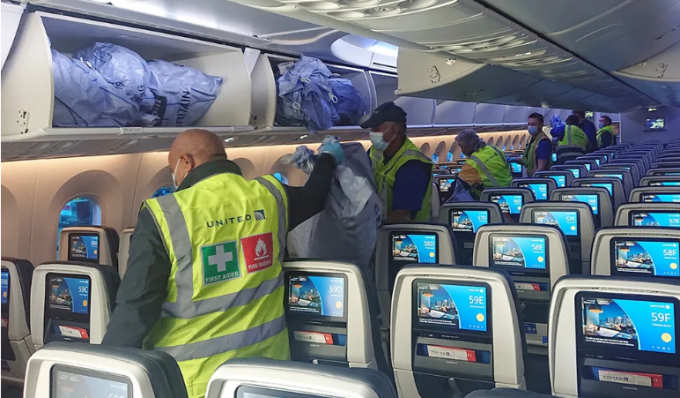 Air cargo's moment in the spotlight will change the aviation industry for good, with fleet and network decisions likely to be shared rather than passenger arm choices.
"The focus on cargo will be a permanent shift," said Wille Walsh, director general of IATA, at the World Cargo Symposium in Dublin last week.
"Cargo wasn't an afterthought, but it was a less significant factor [for many airlines]. And decisions that have favoured passengers have often gone against what cargo businesses want – for example, orders for the A380, not a cargo-friendly aircraft.
"And when airlines retire aircraft, they look at the A340 and B747 – which have good cargo capacity that cargo people would probably have kept.
"I think cargo strategy will now go into aircraft and network decisions. This will be a structural shift; it's always been important, but it's only been about 12% of overall revenue."
Revenues from cargo currently comprise about one third of total revenues, although this is expected to decline as the passenger market rebounds.
Lynne Embleton, a 30-year British Airways veteran who was CEO of IAG Cargo from 2017 until April, when she became CEO of Aer Lingus, said moving over to cargo had been an eye-opener.
"I've seen the light. I'm a convert.
"I admit now, that taking aircraft and route decisions was 90% about passengers. I was aware of cargo, but didn't have that level of appreciation. I started to understand how tradelanes and the economics of cargo work."
Ms Embleton, in conversation with Mr Walsh, said that, as the pandemic hit, the first job was "to ask the airline to give us control of capacity".
"We believed aircraft should be in the air – and we were given the freedom to take control.
"There was no network planning department in cargo, so we had to pull talent from wherever we could find it and work out the economics. Everything had to be cash-positive."
Mr Walsh, who left the airline in September 2020, added: "There was very little analysis done, we had to do it overnight. We used to look at the incremental cost of carrying cargo – but that changed to the incremental cost of adding passengers, such as cabin crew and catering."
Ms Embleton said three out of four Aer Lingus flights were now driven by cargo.
"Cargo will now be able to attract the best talent because of its profile. It will open it up and make it more attractive to work in."
Mr Walsh hoped that governments may also now take notice, adding: "Had the passenger industry not been able to pivot, governments would have had a different view. They've taken cargo for granted. But we did it ourselves, worked it out by ourselves, and I think governments will now give it greater value.
"The industry needs to remind people of the role we've played. There has been a lot of hard work done in this industry. The appreciation among airline teams is much greater, and I think that's a permanent shift."
Jan Krems, head of United Cargo, said some airlines had always focused on cargo, but others which had earned very low percentages of their revenue from it had been slower to act, and some had fewer dedicated cargo staff.
"You need cargo people who understand freighters and we were given the freedom to play with our aircraft. And on the passenger side, you need two months in advance to set up a station – in cargo, you can fill up and go.
"At United, we've always had people who understood cargo."