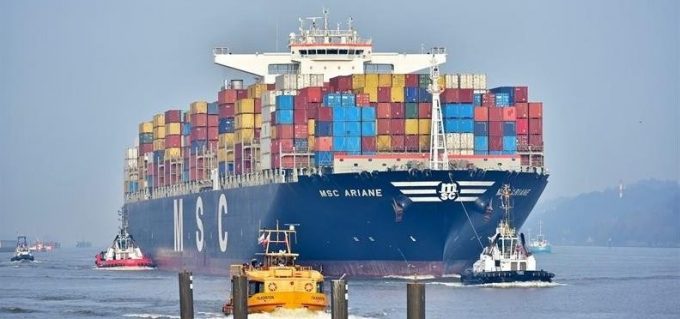 MSC added 411,000 teu of capacity last year, mostly via second-hand containership purchases, for a growth of 10.7%, to 4,266,805 teu, according to Alphaliner data.
This compares with 2M partner Maersk's conservative 3.4% capacity growth of 142,405 teu, to 4,279,305 teu, and other carrier rivals' flat or negative tonnage growth in 2021.
MSC's tonnage growth was especially impressive given that several of its acquisitions involved ships it already operated on charter.
The consultant's analysis of the 'winners and losers' in the capacity race last year highlighted Geneva-headquartered MSC's insatiable appetite for the S&P market, notching up more than 100 reported purchases.
S&P brokers told The Loadstar last year MSC was hunting ships of "any size and any age" and prepared to outbid all other carriers for an available vessel, even if the transaction involved the expiry of a current charter of six months or more.
However, percentage-wise, Taiwan's Wan Hai grew its fleet the most: by nearly a third, to 421,202 teu, thereby powering its way into the carrier top 10 rankings and demoting Zim to 11th, despite the Israeli line boosting its fleet by almost 15%, to 413,862 teu, with new charters and its first purchases of second-hand ships.
Elsewhere, Wan Hai's compatriot, Evergreen, added 199,254 teu of tonnage representing a 15.6% increase in capacity, to 1,477,644 teu.
Nevertheless, Evergreen was not an active player on the S&P market.
"Contrary to MSC, which realised its 10.7% growth through a mix of buying ships, charter vessels and taking delivery of newbuildings, Evergreen owes its fleet expansion to the entry into service of four 24,000 teu A-class and ten 12,000 teu F-class ships," said Alphaliner.
Meanwhile, Hapag-Lloyd recorded only a 1% increase in its capacity, with a year-on-year gain of just 17,894 teu to 1,746,772 teu, as it redelivered chartered tonnage to owners, either because it no longer wanted the ship or due to it being unable to extend the charter. However, the loss of chartered tonnage has forced the carrier onto the extremely hot charter spot market to cover its liner commitments.
As an example, The Loadstar reported last month that Hapag-Lloyd had agreed a three-month charter, commencing this month, with Greek non-operating owner Euroseas of the 4,253 teu Synergy Oakland for an eye-watering $130,000 a day – $11.5m over the duration of the charter.
The so-called top-ten carrier capacity 'losers' in the Alphaliner analysis were Chinese state-owned Cosco, with a 3.2% reduction in its fleet, to 2,934,447 teu, and Japanese carrier ONE, which saw a 3.4% decrease in its capacity, to 1,542,261 teu.
According to Vesselsvalue the average age of MSC's 260 owned vessels is 17 years, with the age profile for its 123 panamax and sub-panamax ships at around 20 years.
Older ships that do not meet the IMO's EEXI (Energy Efficiency Existing Ship Index) requirements and the Carbon Intensity Indicator (CII), due to be implemented in 2023, could face mandatory power limits and speed reductions.
MSC may be just a few ships away from overtaking Maersk to become the top-ranked carrier in terms of capacity deployed, but longer-term it looks set to open a gap on its rival with one million teu of newbuild orders compared with the Danish carrier's current modest 255,000 teu orderbook.