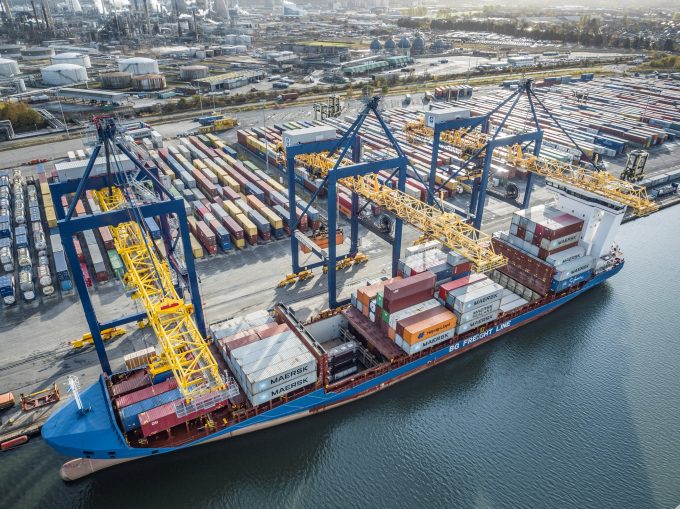 High levels of congestion at major container gateways have led to declining direct port calls by mainline Asia-North Europe vessels, and increased the likelihood that the UK could become a feeder market. 
Over the past few months, the ranks of deepsea vessels omitting direct calls and unloading UK-bound cargo at north-west continental Europe gateways have swelled, leaving UK forwarders scrambling to find ways to retrieve customers' cargo.
This has led some to lament that the country would be relegated to feeder-only status. 
However, this may not necessarily be a negative development, according to Keith Gaskin, group commercial director of Seko Logistics in the UK, who told The Loadstar it could improve container supply chain efficiency and tackle the industry's carbon footprint. 
"I believe this could happen and have mooted this as an idea for several years, as the UK could benefit from being a spoke, for example, from Rotterdam as a hub and the direct call from Asia.  
"If there was a regular feeder service into UK ports like Immingham, Hull, Grangemouth, Liverpool and Bristol, hauliers could put assets in place to ensure swift deliveries from the arriving services.  
"From a sustainability perspective, it would also mean fewer miles on a truck, as the feeder would position the container nearer to the consignee," he added. 
"We need the industry to address our carbon footprint, and improving this, along with potentially cheaper deliveries to the end user, would benefit all parties and ensure the main ports do not become hugely congested.  
"The industry also needs robust transit times and scheduling – if it means the UK is more of a feeder port from some origins, this doesn't mean it's a negative, because shippers can plan and schedule accordingly, and with much more certainty than we've seen in the market over the past 12 months," he said. 
Mr Gaskin added that, as part of Seko Logistics UK's efforts to circumvent the congestion at Felixstowe and Southampton, the forwarder had booked a number of Asian import shipments to be unloaded in Rotterdam, to "alleviate the pressure, especially on Felixstowe, and to become more attractive to the carriers by terminating at Rotterdam with them" and then feedered to smaller UK ports. 
And the use of feeders into the UK has seen Seko both charter its own vessels as well as contracting directly with carriers. 
"It's not an easy process, especially to ensure continuity of a robust service for our clients every week," said Mr Gaskin. "But we have seven feeders a week into Tilbury and Hull combined, from Holland, available to us. 
"Initially we are feedering into Tilbury and Hull on our service and have also negotiated feeders into Liverpool and Bristol with a global carrier directly," he said, adding that haulage capacity outside the main gateways had been sufficient to cover the volumes. 
"Haulage at the destination port was always a big concern for us but our providers have strong haulage availability at Immingham while Tilbury was less of a concern due to hauliers based in the region covering the southern ports, including London Gateway." 
However, he also conceded that congestion levels at Felixstowe and Southampton had declined recently. 
"It is easing slightly but we need assistance from the ports, especially Felixstowe, to make it more productive and to load/unload vessels quicker. The software changes of the past few years at Felixstowe have actually made the situation worse, particularly in terms of the port's productivity against the likes of London Gateway and Rotterdam.  
"This needs rectifying as soon as possible," he added. 
However, with the east coast of the UK currently battered by storms and some of the coldest weather for years, operations at Felixstowe have again been disrupted. A customer advisory issued by freight forwarder Ligentia warned importers to expect further delays this week. 
"We have been notified that Felixstowe port is open, but the turnaround times are three-to-five hours and the approach road is gridlocked.  The next available VBS slots are currently tomorrow (12/02/21) between 7pm and 8pm, with the port stating no further slots will be released.  
"Overnight the port had numerous equipment failures due to freezing temperatures, which greatly reduced the productivity of the night shunting operations of road suppliers as well as creating multiple rail failures.  Therefore, we are advising all customers to expect continued delays and failures for bookings left on," it said.