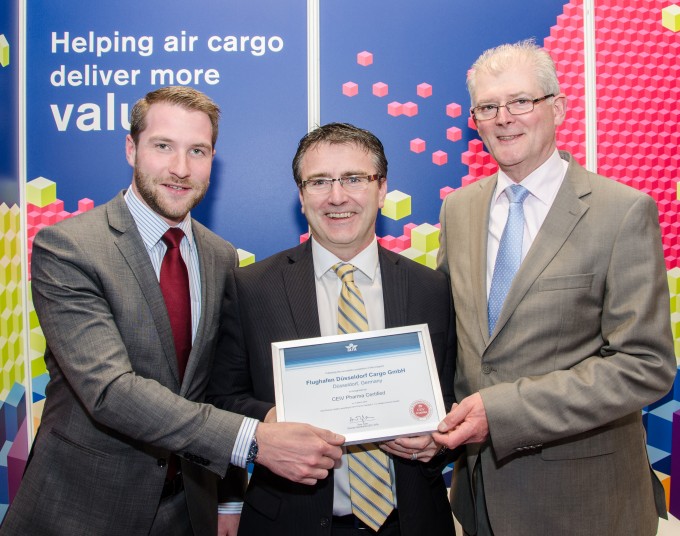 IATA's CEIV initiative is gaining momentum as the air cargo industry attempts to plug the flow of pharma shippers switching to ocean freight.
At last week's World Cargo Symposium in Berlin, the air cargo community at Schiphol announced its participation in the scheme, while Frankfurt is also gaining certification. IATA has said the accreditation is "urgently required to stop the alarming decline of air cargo's market share of global pharmaceutical product transport".
There has been some distrust of CEIV, with some players claiming it is simply a money-making opportunity for IATA, and others saying it was nothing but a marketing and sales tool for participants. But IATA has denied the accusation, saying it does not make significant sums. And a source at one airport, which was against the idea last year, told The Coolstar recently that although he remained uncertain of the benefits, "if we don't do it, we would be at a competitive disadvantage now".
In Singapore, Changi Airport Group (CAG) is launching a "community of cargo partners" it will support to gain CEIV certification, following a similar announcement by Miami Airport last year. The six recipients of CAG funding and training support are: SIA Cargo, dnata Singapore, Global Airfreight International, Expeditors Singapore, CEVA Logistics Singapore, and Schenker Singapore.
CAG's executive vice-president Yam Kum Weng said pharma is one of the fastest growing cargo segments in Changi Airport.
"Transporting high-value, temperature-sensitive pharmaceutical cargo can be complex due to the multiple requirements. Today, with dedicated cold chain handling facilities by key cargo partners at Changi, coupled with our excellent connectivity, Changi is well-positioned to be a leading pharmaceutical and biotechnology hub in Asia," he said.
IATA's regional vice-president Conrad Clifford added: "Last year, the global pharmaceutical industry spent over $10bn on cold chain logistics, with the amount expected to exceed $13bn by 2019. The establishment of a CEIV-Pharma Certified community will position Changi Airport and Singapore as a regional leader at the forefront of this fast growing segment."
Elsewhere, Shanghai Pudong International Airport Cargo Terminal (PACTL) is the first facility in China to gain CEIV certification.
"Having satisfied the IATA CEIV Pharma regulations, our new cool centre now fully complies with all the relevant standards expected by pharmaceutical manufacturers," said Lutz Grzegorz, vice-president of PACTL.
The PACTL Cool Center measures 3,500sq metres and is designed to handle 100,000 tonnes of temperature-sensitive freight every year.
CEIV was created by IATA to improve competency, create consistent quality standards and assure product integrity for pharma cold chain handling.
The initiative is much-needed, considering AstraZeneca's recent air cargo experiences. As previously reported by The Coolstar, the pharma multinational now sees ocean freight as its mode of choice for temperature-controlled shipments.
Julian Wann, AstraZeneca's global category leader for freight and logistics, said it had consistently experienced air transport delays, with 80% of shipments suffering temperature excursions, compared with just 10% for ocean freight. Mr Wann said AstraZeneca plans to move 70% of its global freight by ocean, a major shift from 90% air freight five years ago.
This is a trend IATA will hope to halt with CEIV. The initiative has had a slow start, but it seems a breakthrough has been made over the past year with some major players giving it their backing.
Last month, Air France KLM Martinair Cargo was awarded CEIV certification at its hub operations in Amsterdam and Paris, while SwissWorld Cargo said it aims to roll out CEIV at all of its stations globally.
They are joined by a group of twelve companies based at Amsterdam Schiphol, while Düsseldorf Airport Cargo's DUS Pharma Center has become certified, a first for Germany.
Gerton Hulsman, Düsseldorf Airport Cargo chief executive, is convinced IATA's standards will "become the global model in the long run".