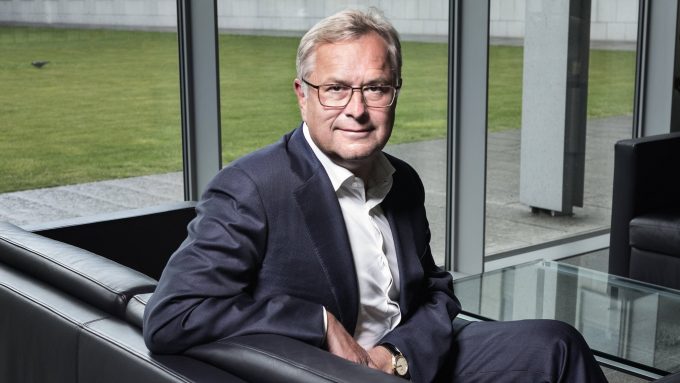 Maersk has reported a net profit of $3.7bn for the second quarter and $6.5bn for the half-year, driven by "exceptional market conditions", and expects Q3 to be even better.
But for its ocean carrier business, the emphasis is on locking-in more blue-chip shippers on multi-year contracts to ensure it extends profitability as far as possible.
The downside is that Maersk's ocean carrier rivals appear to be enjoying better returns from a considerably more lucrative short-term market.
"The outlook for Q3 is strong and we expect the current momentum in ocean will continue into Q4, also benefiting our terminals business," said CEO Soren Skou.
Revenue for Q2 was 58% higher than the same quarter of 2020, at $14.2bn, of which $11bn was contributed by the container line business.
Although volumes carried across the network, of 6.68m teu, were up 15% on the year before, liftings actually fell 3.1% on the pre-pandemic Q2 19.
The contrast in earnings came from a 59% uplift in the carrier's average rate, to $1,519 per teu, "driven by long-term contracts renewing and short-term freight rates from higher demand combined with bottlenecks and congestions", said Maersk.
Nevertheless, Maersk's average rate was somewhat below the $1,799 per teu reported by OOCL recently, and reflects its strategy of focusing on long-term contract revenue rather than accepting the higher income from the spot and short-term market.
The carrier estimates that by the end of the year it will have pivoted its contract business to 60% of its volume, compared with the 50:50 ratio of last year.
The financial impact is an increase of $400 per teu for its long-term contracts this year, but it said it expected to push this up for new tenders on the Asia-Europe trades that will start coming in during October.
So far, Maersk has signed-up more than 2m teu of multi-year contracts across its main 200-customer portfolio, but is walking away from negotiations if it feels the shipper will not respect the deals.
CCO Vincent Clerc said: "We have had quite a few instances where we have decided not to proceed with long-term contracts where we did not feel that the basis behind them was the right one, and the intent behind it was healthy."
There were signals from today's Q2 earnings call that Maersk has at last decided to boost its orderbook, which at just 15 ships for 46,000 teu is by far the lowest of all its top-ten liner peers.
Of its $7bn 2021/2022 capex budget, Maersk has only used $800m so far, but CFO Patrick Jany said the funds would still be needed as the carrier looked to replace part of the fleet.
Meanwhile, Maersk's terminals business saw throughput rebound by 24% in Q2, compared with the second quarter of last year, to 3.2m teu. Revenue increased from $723m to $969m, "driven by higher volumes and increased storage income".
And turnover from the logistics business increased 38%, to $2.2bn. This will be further boosted by the announcement today of the acquisition of e-commerce end-to-end supply chain specialist and US-based Visible Supply Chain Management and Europe-headquartered B2C Europe, which are expected to add annual revenue of $550m and $140m, respectively.