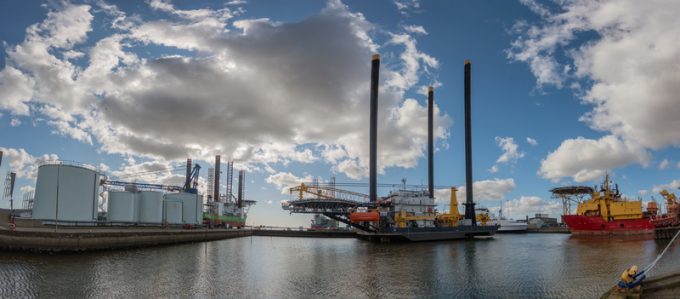 Efforts to decarbonise the shipping industry accelerated today as Maersk and DFDS announced their backing for development of a production facility in Denmark to supply CO2-free ammonia to their vessels.
And, in a separate development, the CMA CGM-led Coalition for the Energy of the Future has established seven new working groups to develop greener transport solutions.
The Power-to-X ammonia production plant will be in Esbjerg, on Denmark's west coast, an area that in recent years has developed into the country's offshore wind power hub.
The facility will convert power from nearby offshore wind turbines to green ammonia, which will be used by the agriculture sector as CO2-free green fertiliser and by the shipping industry as CO2-free green fuel.
Excess heat created by the facility will provide heating for around one-third of the households in Esbjerg and, ultimately, is expected to reduce CO2 emissions by about 1.5 million tons a year – the equivalent to permanently removing 730,000 cars from the roads.
The project is led by the world's largest renewable energy investment fund, Copenhagen Infrastructure Partners, which recently set up an Energy Transition fund to invest in the project. Backers also include Danish agriculture giants Arla, Danish Crown and DLG, which will use the ammonia as a fertiliser.
Last week, Maersk announced an order for a new 2,000 teu feeder vessel to run on methanol, but added that ammonia was another alternative fuel it was investigating.
"There is a very real sense of urgency in curbing shipping's emissions, and we must develop scalable carbon-neutral fuels," said  at AP Møller-Maersk's CEO of fleet & strategic brands, Henriette Hallberg Thygesen.
"We will have our first carbon-neutral vessel on the water by 2023 – seven years ahead of schedule – running on methanol. Nevertheless, we consider green ammonia as a promising option for marine fuels and a dual fuel engine for ammonia is under development.
"We are optimistic that ammonia, along with methanol and alcohol-lignin blends will be powering Maersk-vessels in the future," she added.
DFDS CEO Torben Carlsen said: "Vessels are designed and built for today's fuel and a green fossil alternative does not currently exist. That's why we're partnering in projects like Power-to-X.
"The cooperation of fuel users and producers with scientists and society is the fastest way to make sustainable fuels available as realistic alternatives to the fossil fuels we combust in our vehicles and vessels today."
The Power-to-X ammonia project aims to produce around 50,000 tonnes of green fuel, and possibly serve as a North Sea fuel hub, and is expected to be operational in 2026.
Meanwhile, the Coalition for the Energy of the Future announced seven new working groups to develop sustainable fuel projects.
These comprise: a working group on green hydrogen, which will build on French retailer Carrefour's hydrogen-powered fuel cell long distance zero-emission trucks project; one to propose and test the first bio-crude oil dedicated to maritime vessels; one to create a pathway for bioLNG fuels; one to convert hinterland infrastructure such as depots, terminals and warehouses to running on green self-sustained electricity; one to develop zero emission vehicles for road, air and sea transport, including R&D projects around new energies such as hydrogen or ammonia; one to develop a digital "ecocalculator", "certifying door-to-door CO2 impact on any given transport routing as well as proposing low-emission alternatives"; and one to develop a business plan to sustain port conversion into new green multimodal hubs using lower-impact routing with greener energy by end of 2021.
The group also announced today that port operator PSA, aircraft manufacturer Airbus and French classification society Bureau Veritas had joined the coalition, taking the number to 14 companies and joining CMA CGM, Amazon Web Services, Wartsila, Total, Carrefour, Michelin, Schneider Electric, investment bank Credit Agricole, Cluster Maritim Francais, automotive supplier Faurecia and low carbon energy developer Engie.