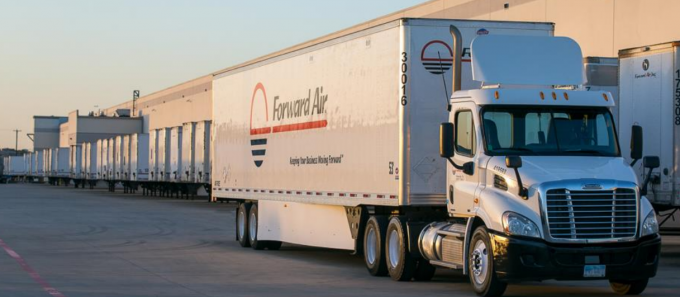 Volume decline seems unable to put the brakes on US less-than-truckload (LTL) carriers, or bring pricing down as it has in other sectors – operators are upping their game, or expanding.
Forward Air increased its footprint this month with a $56.5m takeover of Land Air Express, an expedited LTL firm with more than 200 drivers and a network of more than 25 terminals, a deal expected to boost Forward's revenues by $74m, to $94m.
"Our core LTL business is the key growth area and the purchase of Land Air Express is an important addition to our LTL growth opportunities," said Forward chairman, president and CEO Tom Schmitt.
"This acquisition will accelerate the expansion of our national terminal footprint, particularly in the mid-United States, and we believe it will strategically position us to better meet the current and future needs of customers."
He claimed before the deal that Forward had found ways over the past year to target more high-value freight and its clientele, mostly freight forwarders.
Generally, LTL operators have pushed to raise their game. According to the most recent market update from Uber Freight, the industry has improved its on-time record in the past year, while players' operating ratios have gone down.
Roadrunner, which operates a network of more than 1,000 owner-operator and team drivers, and 36 terminals, announced faster transit times on several sectors last week. On 130 of the lanes in its network transits have been slashed by between one and four days, it said. In addition, Roadrunner unveiled a one-day service between Chicago and Southern California, sold at regular freight rates.
To achieve these improvements, Roadrunner said, it made changes at 30 origin and 27 destination terminals and stopped using linehaul service on the railways. And it used the announcement of its shortened transit times to unveil an app that offers real-time tracking to shippers.
Tomasz Jamroz, head of technology, operations and linehaul, said investment in technology, dock automation and service centre improvement, along with increased lane density, had made the improvement in transit times possible.
A recent market report on the LTL sector by CH Robinson notes that the LTL industry has been rapidly adopting technology to up its performance. And these developments are playing out against a background of declining tonnage, a trend that accelerated in November. LTL provider Saia reported a 7.7% drop in volume for the month, following a 3% slip in October.
However, the retreating volumes have not brought about a fundamental change in the supply:demand balance. Despite some increases in capacity, as more trailers and tractors were delivered, the market is still rather tight, with little spare capacity, said analysts at CH Robinson.
This has helped carriers maintain pricing discipline and avoid the slump in rates that has played out in the truckload sector since last spring.
And CH Robinson predicts this pricing discipline will hold for the foreseeable future, despite forecasts of decelerating tonnage and volume. Given increased costs, observers reckon rates will continue to climb.
LTL carriers obviously share this sentiment. Annual rate hikes announced by a number of players, including FedEx Freight (the largest US player) are in the 5.9% to 7.9% range.