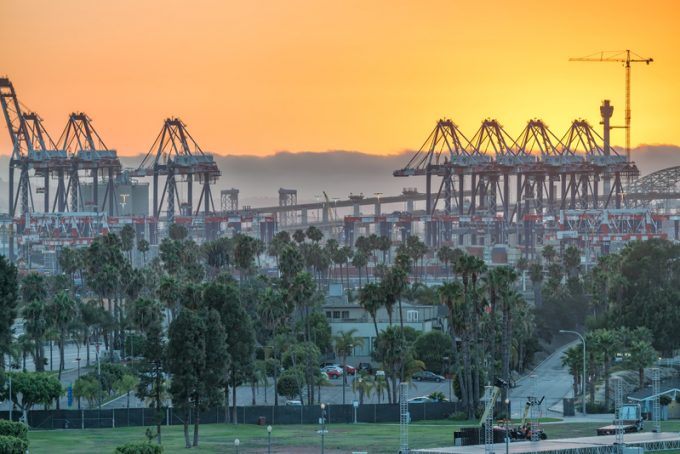 The port of Long Beach is still in crisis mode: yesterday, there were 74 containerships anchored in San Pedro Bay waiting for berth space at LB or Los Angeles, down from a high of 80 last weekend.
According to the LB port authority, this pile-up translates into more than half a million containers on the water – and there close to 150,000 boxes at the port, with a similar number at neighbouring LA.
But, yesterday Long Beach announced a new initiative to get boxes moving out of the port more quickly and ease the logjam.
Currently, the average wait time for containerships to get to a berth is ten days. Mario Cordero, executive director at LB, says this is unacceptable, there should be no wait time for berth space.
"We have a logjam in the supply chain," he added. "We have shortages of equipment, truck drivers and warehouse workers."
One reason boxes have been piling up at the ports is a lack of warehouse space in the Los Angeles area and in the interior, explained Noel Hacegaba, deputy executive director and COO at LB.
"A lot of chassis are being used as makeshift warehouses, ships at anchor are used as makeshift warehouses and now so are the terminals. What we need desperately is velocity," he added.
The port's latest move to clear the congestion and restore velocity is an agreement with Utah Inland Port and rail operator Union Pacific, announced yesterday, for containers to be hauled by UP to Salt Lake City for onward dispatch by rail or truck to other destinations or regional distribution centres.
"We believe this has near-term and long-term benefits," Mr Hacegaba said. "Near-term, we push containers out faster, replacing thousands of truck moves."
Earlier this week, LA and LB ports announced a levy on shipping lines on containers that stay on the docks for nine days or longer, if they are to be moved out by truck, and three days for rail, of $100 per container – plus $100 increments every additional day the boxes remain at the ports.
According to Mr Cordero, nearly 40% of the containers sitting on the docks will be affected by this measure, and he added that there would be no exemptions across the terminals.
Maersk advised its customers of the charge on 28 October, saying: "Given the 7-day notice period, much of how the cost will be charged and in turn collected is still to be determined. More will be shared in the coming days as we approach the 1 November start date."
The carrier added, "We understand this puts all parties involved in a rather difficult situation as truck, chassis and warehouse capacity are all extremely stretched. Rest assured, we are aggressively working on several solutions to help mitigate some of the impacts."
Arguably, the biggest step taken by the ports has been a move to 24/7 operations, announced in August after consultations with the White House. At Long Beach, the TTI terminal led the charge with a pilot project that began last month.
Terminal operators and logistics providers are sceptical, saying importers and truckers have been slow to embrace the "hoot shift" – 3am to 7am – but Mr Cordero said talks with terminal operators were continuing and that the industry was "warming slowly to the extended hours".
While TTI is the only terminal at the port currently open around the clock, others have been flexing gate hours and opening at weekends, he reported, adding that that the transition to 24/7 operations was "a step-by-step process that takes time", and a challenge to the industry.
Long-term, he regards 24/7 operations as a necessity, as the elevated volumes Long Beach has struggled with over the past year are expected to continue. LB and LA expect to handle about 20m teu this year and forecast 24.78m teu in 2025 and upwards of 28m by 2030.
"We cannot move this magnitude of volume with the model of yesterday," said Mr Cordero, and he explained that expanding capabilities was not only about accommodating those projected volumes, but also dealing with disruption, "like we are seeing today".
Mr Hacegaba described expanding terminal operations around the clock as the first stage in a multi-step process to get the industry to a 24/7 mode.
"The supply chain is changing," he said. "Ultimately, the shift to 24-hour operation has to extend beyond the port to importers, truckers and warehouses."
Mr Cordero stressed that, at this point, the ports and all stakeholders were engaged in a joint effort to find ways to cope with the current logjam, as the US heads for a major shopping frenzy.
"Retail sales through August were up 21% on last year, holiday online shopping this year is expected to be up 11% to 16% over last year," he said.
"The option to do nothing is not an option – we need to take bold measures to address a very serious situation."