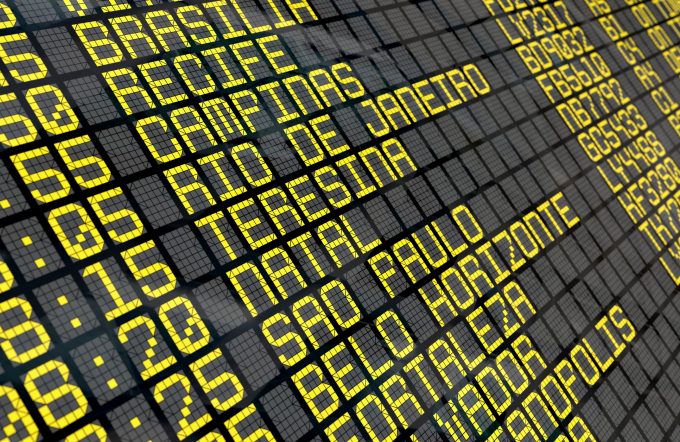 Air cargo in Latin America has been on the rebound, but the renewed momentum has not lifted the fortunes of Brazil's second-largest gateway enough to avert a crisis.
On May 7, the operator of Sao Paulo's Viracopos airport (VCP) filed for bankruptcy protection, struggling with a debt load of BRL2.88bn ($847m).
The filing came in the wake of the publication of the airport's traffic results for the first quarter, which saw passenger volumes at their lowest level for the period since 2013. Cargo volume actually increased 23.17% to 52,614 tonnes – although last year was not a happy one for air freight in the region.
Both passenger and cargo demand at VCP have lagged behind the expectations of operator Aeroportos Brasil to "absolutely exorbitant and unforeseeable levels", the company stated in its filing.
It had won the concession to run the airport for 30 years in 2012 with bright expectations. One of the first three Brazilian gateways to be privatised (besides Rio de Janeiro's Jobim Galeao International Airport and local rival Guarulhos), it was supposed to transcend its role as the designated cargo gateway for Sao Paulo and attract passenger services to transform itself into a regional hub.
Aeroportos Brasil invested in a warehouse management system and moved to pursue high-yield cargo. In a partnership with security specialist Brinks it set up a high security terminal for valuable freight, and it prepared for CEIV certification, which management was anticipating to be in place some time this year.
The economic slump stymied its ambitions to grow its belly network and took a toll on cargo as well. In 2016 VCP handled 166,000 tonnes, a mere 40% of the initial projections.
Aeroportos Brasil has declared that operations will remain normal. However, one carrier executive noted that the operator indicated months ago that it would reduce investment and operating costs.
The airport did not respond to questions from The Loadstar about the ramifications of the bankruptcy filing on cargo service and development plans.
The situation raises questions about possible defections of freighter services to Guarulhos. Lufthansa Cargo shifted one of its Sao Paulo frequencies to the rival airport last year but is unlikely to embark on a major migration any time soon.
Gunnar Löhr, vice-president Latin America & Caribbean, commented that Lufthansa's clients prefer VCP both for imports and exports, adding that the carrier usually complies with customer demand. Moreover, a fully fledged operation at Guarulhos would also be a question of warehouse capacity at that airport, he remarked.
"We are monitoring the situation in VCP, but – as of today – we don't foresee the need to adjust our network due to this bankruptcy filing. VCP is one of our core destinations in South America and, unless conditions at the airport change significantly, we plan to continue flying there," commented Andres Bianchi, CEO of LATAM Cargo.
LATAM is already operating both domestic and international freighter operations to Guarulhos, one of its main passenger hubs. "The decision to shift capacity – or where to place potential new frequencies – will depend on our customers' preferences, economics and operational conditions. We continuously analyse these conditions so that we can achieve the right mix of flights between both airports," he added.
VCP is set to see freighter operations by Brazilian passenger airline Azul later this year. The low-cost carrier signed a joint venture agreement with the national postal agency and is looking to lease two 737-400Fs that will operate from its base at VCP.
The airport's woes come to a head at a time when business in Latin America is strong again. Mr Löhr reported that Lufthansa's traffic – both inbound and outbound – was very strong last year and continued above expectations in the first quarter.
LATAM Cargo's results for the January-March period show a 16.6% increase in revenues, with yield climbing 7.1%. Management of the region's largest carrier pointed to salmon exports as a major driver of outbound business, while inbound traffic was driven by electronics and capital goods.
Mr Bianchi noted that the trends seen in 2017 – robust growth into Brazil and moderate growth into the rest of the region – have continued this year. Overall imports markets are gradually approaching the levels seen before the crisis in Brazil. Core exports remain healthy and have been complemented by good seasonal demand.
"While this positive environment is expected to last, we remain vigilant about how developments on the economic and political environment may impact demand, especially on the import side. Since volatility is a recurrent in our region we have worked to embed as much flexibility as possible in our plans," he added.
LATAM boosted its freighter reach across the Atlantic in April with the addition of flights to Brussels and Madrid, doubling its European footprint. Further expansion is in the pipeline.
"Working with our passenger team, we plan to open Sao Paulo-Lisbon, Sao Paulo-Tel Aviv, Sao Paulo Boston and Lima-San Francisco. On the freighter side we plan to add capacity with the recent re-incorporation of one 767-300F we had subleased, plus the addition of our first 767-300BCF in the fourth quarter. These aircraft will allow us to expand on our current routes and – eventually – add between one and three new destinations in the second half of 2018," Mr Bianchi stated.
According to IATA, Latin America was the only region that did not see a decline in cargo growth in March. The passenger side has also picked up. For three months in a row – January through March – Latin America was the region with the strongest growth in international flights.
Mr Bianchi is not fazed by the rise in activity. Some of the additional lift has been offset by capacity reductions from other carriers. In conjunction with higher demand, this has led to a tighter market. Increased competition has impacted some routes, but LATAM's network has seen a recovery in yields for the most part, he reported.