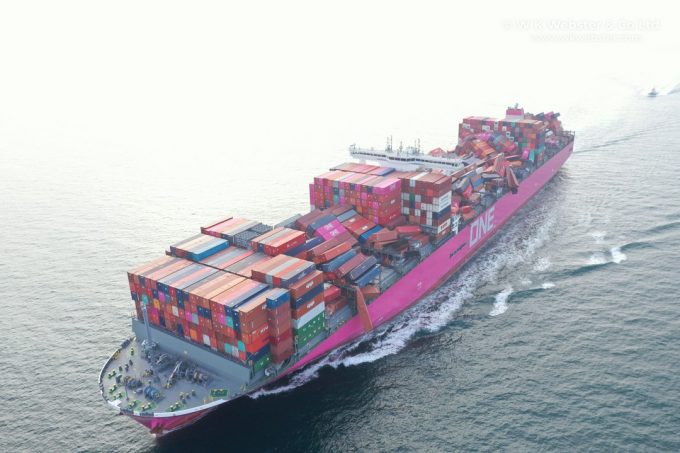 Surveyors contracted to inspect the damaged cargo and containers on the ONE Apus say discharging operations are likely take several more weeks.
And a decision on whether to declare general average has yet to be taken.
By Friday, 232 boxes had been removed from the vessel, which lost 1,816 boxes overboard, including 64 containing dangerous goods (DG), after it encountered heavy weather near Hawaii on 30 November en route to Long Beach.
It returned to Kobe and unloading was suspended for the seasonal holidays.
ONE said today unloading had resumed on 5 January adding that it would need another month to complete the operation.
It said: "The careful removal of the dislodged units under a schedule formulated by stowage planners is expected to take over a month with safety the number-one priority.
"Once unloaded, each will be assessed and, when the discharge of cargo is complete, there will be a full assessment of damage to the vessel, and subsequent repairs.
Marine claims consultancy WK Webster's team of surveyors undertook an initial inspection using drones and access for its surveyors to the cargo itself had so far been limited.
"There has been no advance list of containers to be discharged each day and, as such, our surveyors have remained at the port of Kobe to conduct an external, visual inspection of containers as and when discharged. Some of the containers discharged are virtually destroyed, whilst others are in relatively good condition.
"Shipowners and operators have, unfortunately, not been cooperative as to the status of each container and their stowage positions, and we continue to liaise with their representatives in this regard.
"Meanwhile, we are continuing to press for more detailed surveys of affected containers and their contents."
However, WK Webster also reported that ONE had decided to repair the vessel's deck alongside unloading, threatening to further extend the time of the overall operation, although it added that the rate of unloading had increased over the past week.
"It is now well known that a general average surveyor has been on board to assess the situation and has reported to the shipowners. General average has not been declared at this stage, but cannot yet be ruled out, although the likelihood of a declaration is considered to be receding as time progresses," WK Webster said.