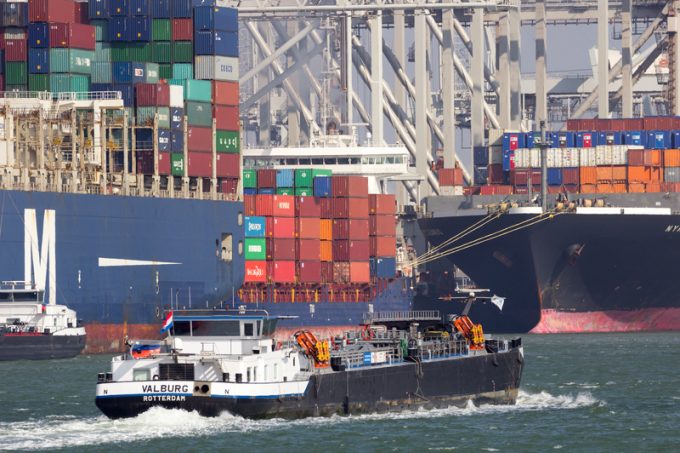 While the Rotterdam port community continues to wait for the port authority to agree to fund construction of the Container Exchange Route, container operator Kramer Group and Rotterdam World Gateway (RWG) terminal have found part of the solution to avert barge congestion at Maasvlakte terminals and reduce truck movements on the busy A15 motorway.
Kramer Group chief executive André Kramer told The Loadstar RWG had asked the container operator to set up a frequent intra-port barge shuttle between the deepsea terminals at Maasvlakte and what used to be the ECT Home Terminal at Eemhaven.
Eemhaven is more than 60km inland and now mainly operates as a hub for fruit and horticultural produce. Kramer Group has a container facility there.
This and Kramer's Barge Service Center, between ECT and APMT at Maasvlakte, appeared to be suitable for a thrice-weekly barge service, developed with barge operator Danser Group, which was recently launched after a successful pilot.
The pilot showed dwelling times at terminals for barges that do not comply with call-size obligations or are late for handling at deepsea terminals could be reduced. Barges can discharge their containers at the City Gate Maasvlakte at Eemhaven, after which Kramer takes care of just-in-time planning for seagoing sailings.
Mr Kramer said it was a win-win situation for all involved – inland barge operations become more efficient while congestion at the deepsea terminals and on the A15 motorway can be reduced.
Despite several efforts to reduce traffic, the motorway is still very busy during rush hours. Trucks need to use roads onto the terminal, in case they have to discharge a container at one terminal and pick up another at the next.
Terminal operator ECT already has an internal container route, but it has not been in its interests to extend it to the adjacent Kramer Group terminal or onto APMT's facility and further down.
Discussions on the need for dedicated routes have been going on for years and, as a result, Port of Rotterdam Authority and port stakeholders finally found the solution in bundling the various internal routes into one – the so-called Container Exchange Route (CER).
A consortium of constructors will move in once the supervisory board of the authority has consented to funding it.
In fact, the necessary budget of about €180m is available, given that construction of the Maasvlakte 2 was completed within budget and some €175m repaid in its reservation budget, which could fund the CER.
However, Port of Rotterdam Authority is considering a charge of €5 per teu transported on the CER and it still remains to be decided as to who will pay this.