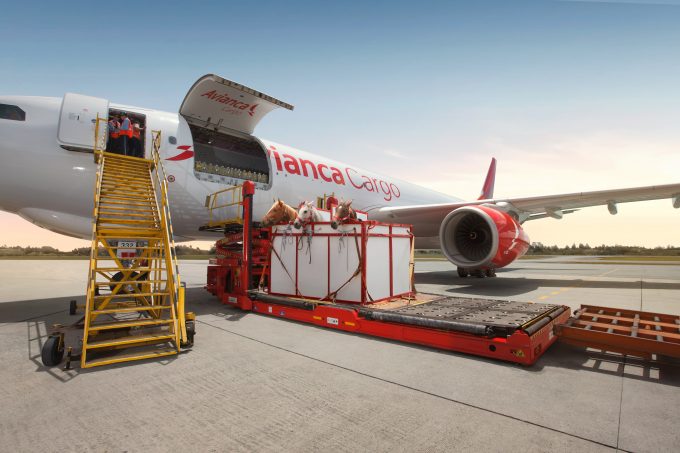 Latin American air freight volumes have contracted in 26 of the last 28 months. Even as global air freight demand triggered a 14% rise in freight tonne km in March, Latin America bucked the trend, with a fall of 4.2%. Only North American carriers failed to reach double-digit growth in the month, rising 9.5%. Africa, which has tended to struggle along with South America, saw a 33.5% rise in freight volumes in March
But this pick-up in demand has left South America behind. Demand is 18% below the peak of 2014; load factors are languishing at less than 32%. Latin America now accounts for just 2.8% of the total global air freight market.
Yet Avianca Cargo continues to operate five A330 freighters.
Unlike in Europe, when consistently poor freight demand caused combination carriers to reassess their maindeck capacity, the Colombia-based airline says it has no plans to change its fleet – neither type, nor number, says Andres Osorio, Avianca Cargo's general manager.
"Even though the Latin American market has decreased, there is enough volume for the A330F."
Avianca has five A330Fs based in Colombia, operating to Miami, and 11 Latin American countries, and also has a partnership with Mexico's Aerounion, which has two 767-200Fs and six A300Fs. It's a fair amount of capacity in a market which has been in significant decline for the past three years.
Avianca's home market, though, has been one of the brighter spots. The airline has an important position in the market to and from Miami, while total volumes in the first quarter grew more than 3%.
"We have seen growth in the flower market in Colombia, specifically to the US," says Mr Osario. "We have also started to see some growth from North America to Latin America – Brazil, Mexico, Chile and Colombia – contrary to the tendency in the last few years."
The World Bank projects economic growth of 2.5% for Colombia this year, more than double what is projected for Latin America and the Caribbean as a whole. Southbound volumes from the US, along with northbound perishables, have kept the carrier going.
"We've always had a very strong market position in the perishables marketplace, but we're also diversifying and always on the lookout for high-yield products."
Transpacific traffic has also been a relief. Latin America traffic to Asia, specifically China, also seems to be surging, compared with 2016, specifically from Santiago, Mexico City and Lima, while there is also growth from China to Latin America. And there's more to come, reckons Mr Osario.
"We have been focusing on strengthening our market position from Asia to Latin America in the past few years. However, this is a growing market, so we know there are still a lot of opportunities in this specific tradelane."
Latin America has suffered as regional currencies depreciated against the US dollar, harming purchasing power and leading to a significant decrease in imports. Brazil's failing economy has been a major factor and, while some other economies are beginning to improve, Brazil will join Argentina, Ecuador and Venezuela in continuing to face challenges, says Mr Osario.
Describing air cargo as "highly sensitive", Mr Osario adds: "It is generally volatile and reacts quickly, often disproportionately to changes in economic conditions. For example, a decrease of a certain percentage in GDP or consumer demand often results in a disproportionately larger decrease in demand for air cargo services, as cargo customers elect to suspend restocking orders and reduce existing inventories and/or to use cheaper forms of transportation for their goods."
And there are other problems, in the north-south lane.
"Cargo demand and flows are uni-directional, and dependent on a small number of product categories. This structural imbalance poses a challenge to freighter operations as lack of demand in a particular direction may force airlines to rely on different markets in order to maximise loads on return flights. Product concentration may also enhance this challenge, as the volume of goods that we transport on a specific direction may be strongly impacted by any event that negatively affects the production of these goods."
The regional economic problems have come as airlines globally have suffered chronically low yields.
"Downward yields started to accelerate in the second half of 2014 as lower fuel prices were sustained. Even though fuel prices have been increasing, compared with Q1 2016, it's been challenging to revert the yield trend. Nonetheless, we're always looking for opportunities to improve yield and have put in place some pricing strategies in our network specifically aimed at this."
He adds that competition has exacerbated the problem. Lower fuel prices have encouraged new market entrants, particularly from the Middle East, and there has been growth in passenger widebody aircraft numbers, "adversely affecting yields and market share and therefore expected profitability", adds Mr Osario.
So, are there any positives on the horizon? Avianca, in common with many airlines, has been eyeing partnerships and is evaluating several carriers in Asia.  It already has "tactical" relationships with carriers where there are "load factor opportunities", such as IAG Cargo, and it is also looking at extending its partnership with United to include cargo.
Etihad, meanwhile, gives it maindeck capacity to Europe for the flower market, where it is unable to operate is own freighters.
"Last year was a very good one in terms of consolidating volumes [with Etihad] specifically on the northbound sector."
It also has doubled its charter operations, doing 74 last year.
"[Charters are] a very specific industry sector due to the contribution and relevance to network profitability, and one in which we want to have significant growth in 2017. We have the flexibility to operate in the entire Latin American region with competitive prices … while optimising routes," explains Mr Osario.
E-commerce is also in Avianca's sights. Local regulations are undergoing several changes to include a better legal framework for e-commerce, and the carrier is seeking partnerships with other supply chain participants to enable growth in the sector. But lack of commonality among Latin American countries makes it harder, and has also hampered the growth of its e-freight capabilities.
It now has full e-freight between Colombia and Miami for flowers, made easier by the "commonality of the product and the specific tradelane".
But, adds Mr Osario, "trying to scale e-freight for other commodities and different airports is a completely different challenge; the customs in different airports are not standardized even for the same countries, the regulations applying to every commodity are different, and the Latin American market is implementing only the part of e-freight related with advanced electronic information, but still requesting the printed documents to release the consignments."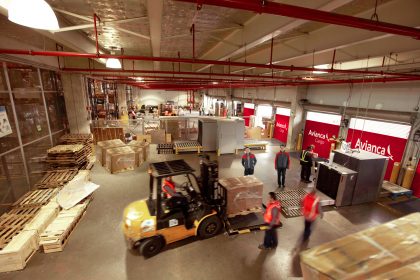 Overall, though, despite all the many challenges, Mr Osario is relatively upbeat. The carrier has invested $2.5m in infrastructure to improve its Bogota warehouse, and reduced transit times. It aims this year to boost its presence in Mexico, while optimising its route network.
And with new services and an aim to explore new markets, including using other transport modes, the carrier hopes to move the story on from the constant pessimism surrounding Latin America.