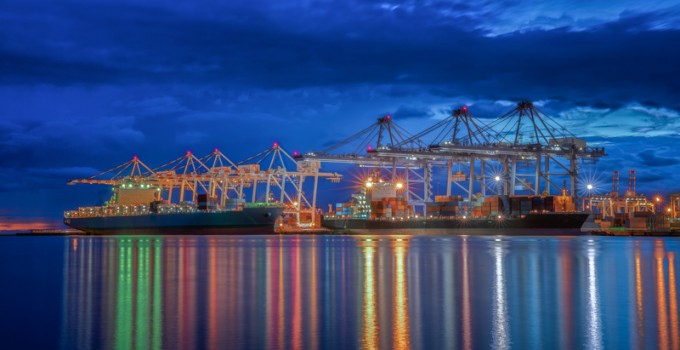 Container ports should spearhead an "Internet of Logistics" to tackle inefficiencies in global container supply chains.
According to PSA International chief executive Tan Chong Meng, a "connected community" beyond the scope of Internet of Things (IoT) technology is needed to improve data sharing.
"Our first 'container port 4.0' concept was very much an IoT-driven idea," he said at the TPM Asia conference in Shenzhen last week.
"But when we started to look at connected communities, we realised IoT was not good enough, because we can be good at IT and still be in silos. So we needed to go beyond ports and into adjacencies, into new partnerships to better interface with shipping lines and other LSPs."
Mr Tan's Internet of Logistics solution encompasses "good governance on data inter-usage", as well as what he dubs three-dimensional logistics – the physical flow of goods combined with financial and regulatory flows.
To this end, PSA has launched a number of new 'plug and play' systems and initiatives in its quest for a truly connected port community. These include Calista, a digital trade platform designed to help shippers manage the physical movement of goods, trade financing and compliance; and Ping, which Mr Tan said closed the gaps in port visibility by distributing vessel data.
"I believe there are opportunities for partnerships and for co-development of platforms, rather than us all going incoherently and finding we have to redefine the language in 10 years' time," he added.
This was a view shared by Hutchison Port Holdings Trust chief executive Gerry Yim, who said: "There's so much inefficiency in all the shipping line and port systems – for example, we receive 13,000 emails a week just for changes and clarifications.
"Can we not go to the root of the matter and reduce some of these human interchanges? We've already got the data into systems, can we not share it so we don't have to have ten sets of people doing roughly the same thing?" he asked.
The solution, he believes, is cross-industry cooperation through a neutral platform, because "you can't have different shipping lines doing different things and end up with three or four systems; it completely destroys the industry".
Hans Nagtegaal, head of containers at the port of Rotterdam, told The Loadstar that while data sharing was essential, it was "easier said than done".
"The challenge we have in Rotterdam is the same globally, in that we want to set up a system but we have various terminal operators and parties who all keep their cards close to their chest," he noted.
For example, well-meaning data sharing can have unintended consequences, he explained, as became apparent when the port developed Pronto, its tool for optimising vessel operations through the port. The tool facilitates interaction between all the different port vendors, including terminal operators, pilots, mooring and barge operations.
"It's not the essence of the tool, but for the terminals, when we talk about the system for planning the barges, for example, then they don't want to make data too visible because their performance can then be compared with competitors," Mr Nagtegaal said.
Ironically, perhaps, PSA's Ping tool and Rotterdam's equivalent, Pronto, are good examples of the type of duplicate systems the port operators each recognised as unneccessary.
"We have to start sharing and the tools have to be global, because with PSA's Ping system, I can think of three or four other parties, including ourselves, who have similar initiatives – so why is everybody doing this? There is not a real necessity for different systems for different ports," Mr Nagtegaal noted, adding that the Port of Rotterdam is currently attempting to hash out some technology partnerships with ports in Asia.