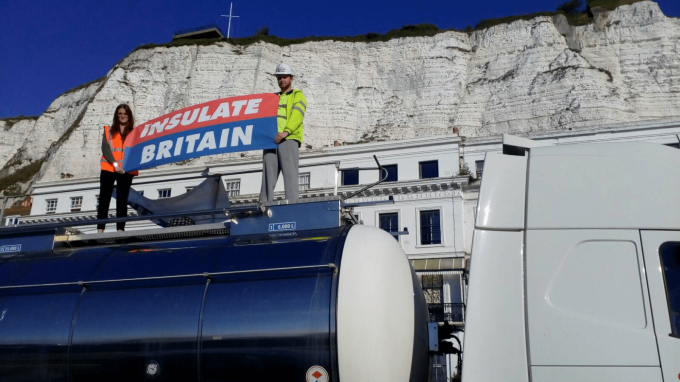 Police and other authorities have moved swiftly to clear a climate protest of about 40 activists which had seen the road links into the Port of Dover blocked by climate protesters from around 08:15 this morning until near to midday.
The protest group, which has been disrupting traffic on the M25 London ringroad for some days, has turned its attention to blocking traffic into and out of one of the UK's busiest ports in Dover.
Insulate Britain, which wants the UK government to insulate all the country's homes by 2030, began protesting earlier this week by blocking traffic on the M25 motorway, but the government successfully applied for a court order banning the action there.
As a result, protesters shifted their focus to the Kent port which, since the beginning of the pandemic, has mainly handled freight into and out of the UK heading for Europe.
Doug Bannister, CEO, Port of Dover thanked the Dover and Kent Police forces for their rapid response in clearing protesters, keeping disruption to a minimum.
"The Port implemented its tried and tested resilience plans in order to deal with the impact of the protest. The Port has consistently shown its ability to deal with such challenges and today's targeted activity shows once again the importance and symbolism of Dover to the nation as a critical trade and tourism artery on which the UK continues to rely.
"We worked with our customers and the police authorities in managing the situation quickly and apologise to our community for any disruption caused by a situation not of our making," said Mr Bannister.
Meanwhile, Insulate Britain also apologised to the public: "We are sorry for the disruption that we are causing. It seems to be the only way to keep the issue of insulation on the agenda and to draw attention to how poorly insulated homes are causing ill-health, misery and early death for many thousands of people.
"We are failing the country's cold hungry families and the elderly and placing an enormous burden on the NHS."
An Insulate Britain spokesperson added that the protests were aimed at highlighting fuel poverty, which is killing people in Dover and across the UK.
"We need a Churchillian response: we must tell the truth about the urgent horror of the Climate Emergency. Change at the necessary speed and scale requires economic disruption. We wish it wasn't true, but it is. It's why the 2000 fuel protests got a U-turn in policy and gave [Tony] Blair his biggest challenge as prime minister," said the spokesperson.