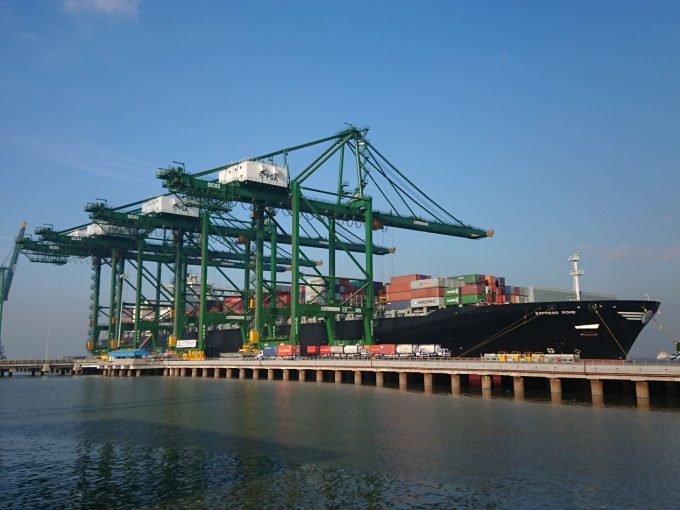 India's container trade growth plummeted in the second quarter, highlighting the country's faltering economy and the increasing impact of global trade tensions.
According to Maersk's latest India trade report, second-quarter container growth fell to 1%, compared to a 9% growth in the previous year, while imports grew just 2% and exports remained flat.
"It reflects a broad-based slowdown across key economic sectors," said Steve Felder, managing director of Maersk South Asia.
"Amid increasing global volatility, a slower local economy and the US's withdrawal of preferential access for certain Indian products, India's import-export trade is expected to continue to face headwinds in the coming months," he added.
Mr Felder's comments were in stark contrast to Maersk's fourth-quarter 2018 report, when he said India "had so far been able to sail through" the US-China tariff tiff.
India's economy slowed to 5% growth between April and June this year, down from around 7-8% in previous quarters, the weakest in six years. And, according to Maersk, containerised trade with China "declined considerably", with exports falling 20%, and imports down 22%, compared with 6% growth in the same period last year.
"Reduced bilateral trade between the US and China has led to various shifts in overall trade structures, with limited sourcing starting to shift from China to other countries, such as Vietnam, Korea, Thailand, Bangladesh and Mexico," Mr Felder said.
"India has thus far not been a beneficiary, however we hope this will change."
Exports to North America fared better, however, growing 15%, despite India's own trade dispute with the US. Indeed, India has made moves to quell President Trump's claim the country is a "tariff king", and with prime minister Narendra Modi visiting the US this week, reports suggest the two sides are close to finalising a "limited trade deal".
Mr Modi's government responded to the economic headwinds last week with $20bn in corporate tax cuts, including slashing rates for new manufacturing companies from 25% to 15%.
Mr Felder believes the commerce ministry's recently proposed export promotion scheme, coupled with a weaker rupee, will boost the 'Make in India' initiative and benefit multiple industries.
"India has a great opportunity to position itself as a beneficiary of the global trade tensions, provided it can attract investment, move up the ease of doing business index and reduce costs related to logistics," he said.
However, Naveen Prakash, director of Global Logistics Solutions India, said sentiment was "quite low" among freight forwarders in South Asia, since both the automobile and garment markets have taken a hit this year.
"A sales drop of 35% in the auto sector, on which around 50% of manufacturers are directly or indirectly dependent, has caused a cascading effect," he told The Loadstar. "The tough part is there is no clarity on how long it will continue."
Furthermore, Mr Prakash said, forwarders were experiencing a liquidity crunch, since delayed payments from shippers were "forcing everyone to choose clients from a limited pool, further reducing profit margins.
"One can observe an increase in online bookings direct with shipping lines' rate platforms, as well as the influx of digital forwarders, which are both making traditional freight forwarding even more competitive," he added.