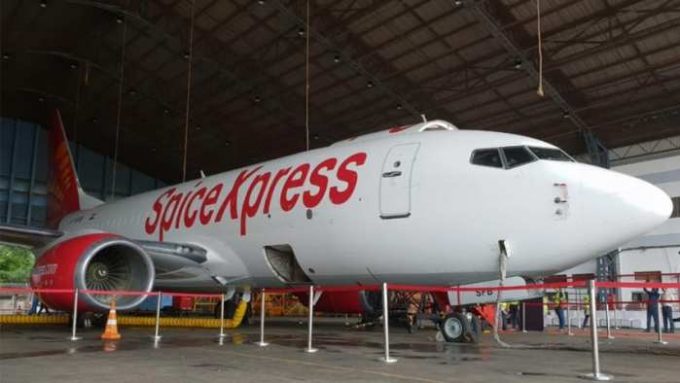 India's airlines are finding themselves deep in the red after the dual headwinds of Covid disruption and high fuel prices sent the industry into a tailspin.
According to a study by market research firm CRISIL, the three top Indian carriers, IndiGo, SpiceJet and Air India, are expected to see a combined net loss of over Rs200bn (US$2.7bn) – the worst ever – in the fiscal year ending 31 March.
This is 44% worse than the Rs138.53bn ($1.86bn) they collectively bled in the previous fiscal year.
The trio commands about 75% of the domestic passenger market, but SpiceJet and Indigo have added much-needed cargo capacity into the under-served domestic Indian network – SpiceJet offers some 600 tons on a daily basis and also has five 737 freighters.
CRISIL, a unit of credit evaluator Standard & Poor's, believes the massive setback in the passenger business could push the industry's recovery beyond fiscal 2023.
"Domestic air traffic had seen a swift recovery after the second Covid wave and reached 86% of the pre-Covid level in December 2021 (compared with December 2019), while regular international flights were expected to start after January 2022," the analyst said.
"However, the third (Covid) wave has already caused domestic air traffic to plummet 25% in the first week of January."
CRISIL noted a similar trend during the April-May second Covid wave when air traffic crashed 25% and 66%, respectively, on a sequential basis.
"The three large listed airlines have already reported a net loss of Rs113.23bn ($1.52bn) in the first half of fiscal [year] 2022," said Nitesh Jain, director of CRISIL. "The sharp jump in domestic air traffic would have cushioned the losses in the third quarter, but the net loss will increase significantly in the fourth quarter as the third wave brought back travel restrictions and flight cancellations."
But CRISIL said the present COVID surge and fresh curbs would substantially cut into air traffic over the next few weeks, but expects a swift rebound from March.
CRISIL associate director Rakshit Kachhal noted that carriers were struggling under heavy debt loads – which rose 35% to over Rs540bn ($7.26bn) (excluding lease payment obligations) from March 2020 to September 2021, because of continual operating losses and such ailing balance sheets presented a negative outlook for the industry.
"In the milieu, airlines are likely to continue to conserve cash, including deferring maintenance as well as major capital expenditure, while renegotiating leases of aircraft and keeping a leash on other fixed costs," CRISIL added. "Besides sustenance of cost control measures, a prolonged third wave, onset of newer variants and increase in competitive intensity with launch of new airlines are downside risks."
CRISIL's forecast mirrors a report published by another domestic credit rating agency, ICRA, last year, which estimated the Indian aviation sector would suffer a net loss of Rs250-260bn ($3.36-3.5bn) in fiscal year 2022.
SpiceJet, touted as the country's second-largest operator not so long ago, is caught up in an existential crisis. Its plan to spin off its cargo arm – a good revenue-earner – to separate entity SpiceExpress has had to be shelved as it faces court claims over debts.
The Madras High Court recently ordered the winding-up of the low-cost carrier on the grounds of its failure to settle dues of some $24m owed to Swiss maintenance,  service provider SR Technics. The Ajay Singh-led airline, however, has until 28 January to appeal the Supreme Court for a reprieve.
SpiceJet is facing similar litigation at the Delhi High Court, expected to come up for hearing soon.
The Loadstar's efforts to reach SpiceJet for comment were unsuccessful.