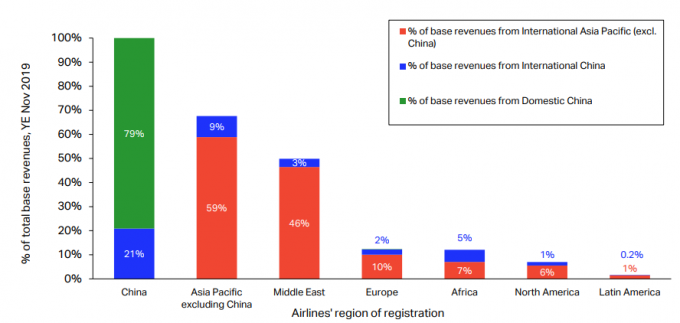 Asian airlines are expected to see an 8.2% contraction in demand during 2020, according to an IATA analysis on the impact of coronavirus.
In fact, IATA said the impact would be 13% lower than 2019, but that with the growth forecast for 2020 was 4.8% – before the virus hit.
That translates into a $27.8bn loss this year for Asia Pacific carriers, with Chinese airlines bearing the brunt, losing $12.8bn in the domestic market alone.
Non-Asian Pacific carriers will see a revenue loss of some $1.5bn – assuming that the demand hit is limited to markets linked to China.
Total global lost revenue will be $29.3bn. with a global contraction of 0.6% in passenger demand, instead of the forecast 4.1%.
IATA used the SARS model for its forecast, which assumes a v-shaped impact on demand. It also assumes the centre of the outbreak will remain in China. However, it does note that China's economy is larger than it was when SARS broke, and the impact could be greater.
The one bright light for carriers could be lower fuel costs. But "this will be a very tough year for airlines," said Alexandre de Juniac, IATA's director general.
"The sharp downturn in demand as a result of Covid-19 will have a financial impact on airlines – severe for those particularly exposed to the China market.
"We estimate that global traffic will be reduced by 4.7% by the virus, which could more than offset the growth we previously forecast and cause the first overall decline in demand since the global financial crisis of 2008-09. And that scenario would translate into lost passenger revenues of $29.3bn. Airlines are making difficult decisions to cut capacity and in some cases routes. Lower fuel costs will help offset some of the lost revenue," he said.
IATA did not mention cargo – but the news is not likely to be good there either.
You can access charts on these figures here.