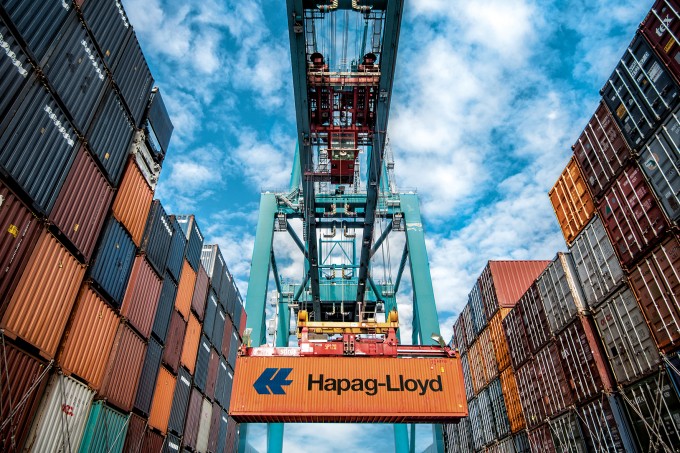 Hapag-Lloyd is the latest carrier to announce a shipment guarantee premium product, which it claims will "increase supply chain efficiency" for customers.
Loaded as Booked is the fourth part of the carrier's rollout of 10 quality promises through to the end of next year.
Hapag-Lloyd said subscribing would mean a promise to load 95% of a customer's confirmed bookings "on the exact ship specified" in the booking confirmation.
"Missed loadings have always been an issue for customers because they cause inefficiencies across their entire supply chain," said Juan Carlos Duk, managing director global commercial development at Hapag-Lloyd.
"We will significantly lower the number of rolls and make the lives of our customers a lot easier by improving their supply chain flow, boosting their planning security and reducing administrative work related to rolled cargo," he said.
Chief executive Rolf Habben Jansen added: "When I ask customers what matters to them most, one thing I often hear is supply chain stability, reliability and predictability."
Indeed, The Loadstar has heard of numerous complaints from shippers since the coronavirus outbreak relating to rolled cargo on both headhaul and backhaul routes, as carriers blanked advertised sailings, often at short notice, which further added to stakeholder confusion.
One UK shipper to Asia told The Loadstar recently his consignments had been rolled on three occasions at Felixstowe.
"And to add insult to injury, they ended up splitting the shipment, which has caused considerable complications and embarrassment for us with a new customer," he added.
The Loadstar reported two weeks ago on allegations that carriers out of Asia for Europe and the US were "using rollovers to bump up freight rates", forcing shippers to "pay premiums of $400 to $500 per container".
There have been further allegations that carriers have deliberately delayed shipments so that they fall under the start date for higher FAK and GRIs.
"The problem comes when the vessel the cargo is originally booked for is cancelled and then the containers just end up in the roll pool. Carriers then argue that rates are charged as per the shipment date and not the original booking date and decide to apply the GRI," said one source.
Notwithstanding the shipment guarantee products being touted by carriers, there are signs that supply is starting to catch up with better-than-expected demand as more tonnage is reinstated, and with anecdotal reports that vessel utilisation levels have fallen slightly on recent ships sailing from China.
And there is cautious optimism creeping back into carrier boardrooms. According to Sea-Intelligence, carriers have unblanked no less than 30 transpacific sailings for Q3, suggesting they have "become optimistic about peak season demand", which hitherto they had all but written off.
The consultant said pandemic or not, the reinstated capacity had pushed the Asia-US west coast above the level of 2019 and into a totally unexpected growth scenario.
However, given the devastating impact of Covid-19 on the US, it remains to be seen whether the increased supply will be sustained.