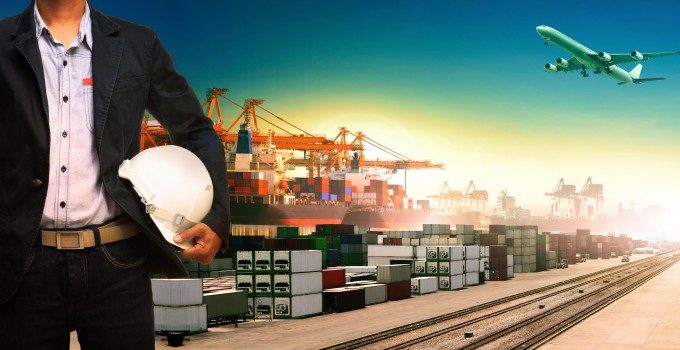 The Gulf region is set for yet another explosion in container terminal capacity as a host of what were previously second tier ports look to develop into mainline hubs.
New terminals in Oman, Saudi Arabia and Qatar are all seeking to join the battle for Middle Eastern cargo volumes – with at least 14m teu of new capacity set to be added to the market over the next few years.
At last week's TOC Container Supply Chain event in Singapore, Qatar Ports Authority's director of corporate affair, Dr Mohamed Briouig, said the under-construction Hamid greenfield port project would feature three container terminals with a combined capacity of 6m teu.
The first will bring 2m teu capacity on line when it opens in December 2016, and will be supported by an adjacent logistics zone for light manufacturing and supply chain management.
"This is one of the largest infrastructure projects in the country," Dr Briouig said. "We are trying to establish an alternative hub for the region, and the strategy is to attract foreign and domestic investment to diversify the economy away from oil and gas, and penetrate the hi-tech, downstream energy, petrochemical and metallurgical industries.
The Qatari government is ploughing $7.4bn into the project, which will also see general cargo, grain and ro-ro terminals built, as well as two intermodal rail terminals and a naval base, and will cover a total area of 27 sq km.
The port authority has tendered for a terminal operator and Dr Briouig said it was in the final stages of the judging process, with a "winner to be announced soon".
The concession is a 15-year management contract, with the terminal superstructure and equipment – normally the responsibility of operators under most concession terms – funded by the port authority. It has placed an order for eight quay cranes and 26 RTGs with Chinese manufacturer ZPMC. The country's existing port operations at Doha will be shut down when the new facility begins operating.
"The vision is that initially the cargo will be gateway traffic for Qatar's fast-growing domestic economy and the 2022 World Cup, and after a couple of years we will begin to target transhipment traffic.
"We are looking to act as a hub for upper countries such as Iraq and Kuwait – especially as Iraq develops – and could also act as a gateway for eastern Saudi Arabia," he said.
However, the region is fiercely competitive, especially after the latest expansion of the Saudi Gulf port of Dammam was completed last week and its second box terminal handled its first vessel.
Saudi Global Ports (SGP), a joint-venture company between the country's Public Investment Fund (PIF) and Singapore-based terminal operator PSA International, handled its first commercial vessel, Orient Express Line–operated Niara, transferring 1,011 teu on the 2,000 teu capacity vessel.
Located in Saudi Arabia's Eastern Province, phase one of the SGP terminal has a 16-metre draught, currently the deepest in the region, although Hamid will match that. It is equipped with six quay cranes of 23-container-span on 700 metres of quay, and when fully developed, the facility will have 1,200 metres of quay and 12 quay cranes, with a designed capacity of 1.8m teu a year.
Also last week, Hutchison Port Holdings' chief executive, Eric Ip, was in Oman to deliver the keynote speech at a logistics and supply chain conference, where he outlined the development of his company's Oman International Container Terminal (OICT), which includes "the fast-tracking development at Terminal C, plans for Terminal D and expansion of hinterland connections, all with the aim of quadrupling OICT's annual handling capacity to 6m teu".
The terminal, located in the newly developed port of Sohar, was built to handle cargo diverted from Muscat following that port's closure to commercial operations, and Mr Ip said the construction of Terminal D would synchronise with the overall development plan of Sohar Port and may start as early as 2018-19.
Mr Ip said, "OICT is the gateway to Oman and HPH has achieved its mission to consolidate Muscat and Sohar cargo and to develop Sohar Port into a modern and efficient gateway port for the North Batinah region and the Sohar Freezone.
"We are committed to Sohar Port and to the Sultanate of Oman. We will continue the development of facilities at the port to capture the growing trade activities in the Middle East and the potential to serve the latest class of 20,000 teu mega-vessels. We are building for the future."
HPH expects to invest a total of $303m by 2019, including the $183.5m already invested in OICT by the end of 2014. Additionally, with investment in the regional road and rail network connecting Oman and the other Gulf Cooperation Council (GCC) member states, OICT is seeking to position itself as a key gateway for regional origin and destination cargo.
These all in come in the wake of DP World's formal opening of its Terminal 3 in Dubai, which will see 2m teu capacity added this year to take its total capacity to 19m teu a year; new equipment acquisitions valued at $60m at nearby Khor Fakkan that will increase its productivity and capacity; and the ongoing development of Abu Dhabi's container facilities.