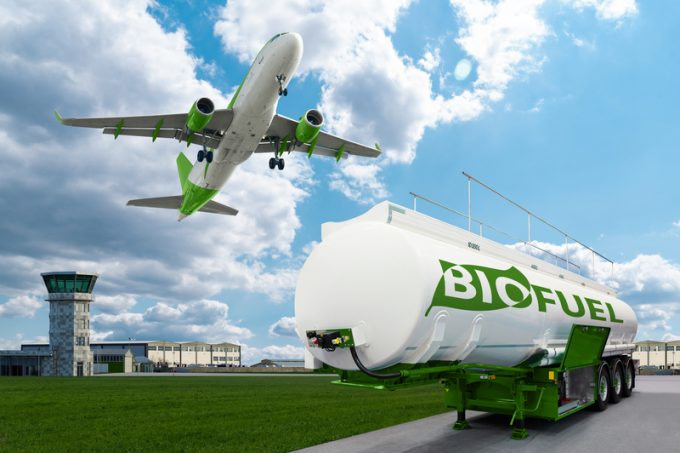 "Who is going to pick up the cost of sustainable aviation fuel (SAF)?" asked Richard Forson, chief executive of Cargolux, this morning.
"At four to five times the cost of jet fuel, it's not affordable for airlines. We'd close down within 18 months."
DHL Global Forwarding appears to agree: today it launched an initiative, with United Cargo, which will see it "contribute" towards the purchase of SAF, which will benefit its own – and its customers' – green credentials.
The forwarder will help purchase 3.4m gallons of SAF to be used this year, and it is also piloting a mechanism to accelerate the usage.
The 'book and claim' mechanism used in other industries mixes physical products and sells them as non-sustainable. The right to claim sustainability is traded on an online market in the form of credits, and is monitored. By buying credits, companies reward sustainable producers and, over time, production will increase.
DHL GF expects the system to be available to all customers later this year.
"Through this partnership we will be able to show how a market mechanism for SAF can help airlines, freight forwarders, and shippers work together to accelerate the transition to a low-carbon, ultimately zero-carbon, emissions transport sector," said Tim Scharwath, chief executive of DHL GF.
So far, aviation's journey towards a carbon-neutral future has been a slow one, and there is no consensus on the way forward.
"Experts do not have a current plan in place, there are no specifics," Mr Forson told The Loadstar. "I could buy 10,000 tons of SAF and put out a press release tomorrow – but is it going to make a huge difference to Co2 emissions?
"What has to happen is a significant expansion in production of SAF for economies of scale and to get costs down. And the second issue is the feedstock and the impact of taking that. You can use old cooking oil – but there is no central location and you don't want little refineries all over the place.
"Airlines are talking about being carbon-neutral by 2050, but what is the plan? How do we get there?"
Cargolux itself is "looking at various projects, which includes investment in SAF manufacturing plants".
"But the question then is how you get it to market?" and the biggest barrier is cost – "It's not affordable for airlines," argued Mr Forson.
"There needs to be a significant build-up in production, but who is going to incur the capital expense to get the volumes needed, and not just for aviation?"
He added that there was still much research to be done on other fuels, such as hydrogen.
Or there is a more obvious way: "One way to reduce emissions is to reduce flying. You generate less Co2 – but what happens to the airlines? They will have to shrink, people will be unemployed. Governments will have a bigger problem when businesses start to close.
"There are detailed issues to consider," said Mr Forson.
But some companies are taking steps – and front-runners are needed, according to the World Economic Forum.
"Clean Skies for Tomorrow's (CST's) Demand Signal group has developed the SAF certificate concept as a workable solution," said Christoph Wolff, head of shaping the future of mobility, World Economic Forum.
"The 'book and claim' mechanism is an essential element of SAF certificates. We need frontrunners like Demand Signal group participants United Airlines and DHL Global Forwarding to put concepts into practice so that it can be validated and turned into a formal standard."
United's Eco-Skies Alliance programme will cut 31,000 tons of greenhouse gas emissions this year. Perhaps a drop in the ocean, but a drop nonetheless.
"Reducing our emissions from fuel use is critically important and when companies as large as DHL recognise the value in switching to SAF, we're another step closer to establishing SAF as a long-term, permanent solution for aviation," said Jan Krems, president of United Cargo.
"The Eco-Skies Alliance is an opportunity for us to collaborate with like-minded corporate and cargo customers, like DHL, which are leaning into the climate discussion and actively finding ways to leverage their relationships to decarbonise their aviation-related impact on the environment."