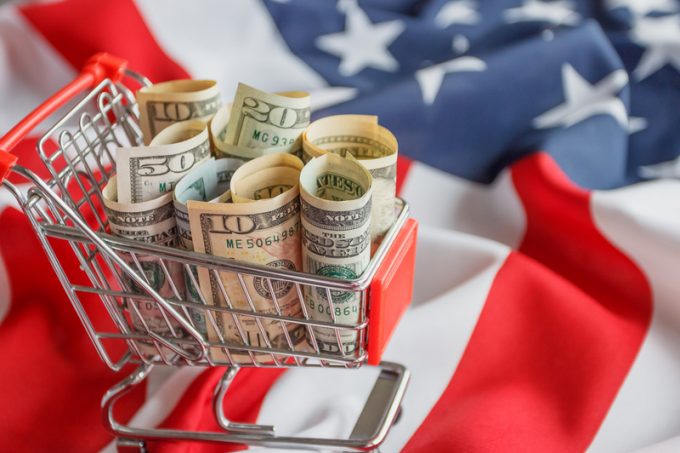 The US consumer will largely determine the success of the airfreight industry in the coming quarters.
According to a new report by Ti Insight, it seems likely that the market will be muted well into next year, and possibly beyond.
Noting that "the US consumer is the driver", Ti's Q4 Air Freight Rate Tracker adds that Americans will have a "disproportionately high impact on air freight demand, especially in Q3-Q4 2023".
While air freight is not only focused on consumer industries, with its role in upstream electronics greater, for example, than in consumer-facing electronics, the US is particularly driven by B2C e-commerce, which began to decline in Q2 this year. It has not been counterbalanced by the rise in B2B traffic.
Both B2B traffic and consumer-facing industries have also been impacted by high inventory levels. As Ti explained: "Inventory dynamics are more important to air freight than other modes. The reason for this is the manner in which shippers use air freight to respond rapidly to demand."
There are also weak signs in other airfreight-focused verticals: semiconductors are a traditional key indicator for air cargo – but demand is waning.
The World Semiconductor Market Forecast noted yesterday that growth had slowed to just 4.4% this year, down from 26.2% last year, and would decline 4.1% next year. Ti added that manufacturers had suggested "demand will fall between 10-15% year on year in Q4 23".
Healthcare is another vertical on the decline, as far as air freight goes, although its previously huge volumes are simply returning to normal.
While the US consumer is key, elsewhere in the world demand has different drivers, said Ti. Europe's demand for airfreight is also determined by production, which in turn is affected by energy costs, inflation and "structural changes in industrial sectors", while consumer demand is weak.
"Overall, the picture in Europe is not bright," said Ti.  "Demand is subdued and likely get worse … [while the] supply of belly freight is likely to strengthen into 2023. The implications for air freight rates seem fairly inevitable. Prices are likely to remain soft, possibly very soft."
Asia Pacific, the largest airfreight market, is driven by production, which is weak, and while there might be medium-term hope, "over the next two quarters demand is very likely to be flat".
The Middle East, meanwhile, is likely to be impacted more by the supply side, with heavy belly capacity returning to the region, while "it is unclear where the wave of freighters created over the past two years will go".
Ti predicted: "The prices look to be soft in both the short and long-term due to the strong supply side."
It also pointed to increases in freighter capacity, as well as passenger travel.
"Express providers in particular have increased the size of their already large fleets, by high single digit percentages, over the past two years. One important issue that is important not to overlook is that of new, and newish, entrants into the air freight market. Notably, the leading shipping conglomerates, AP Møller-Maersk, CMA CGM and MSC, have invested in the air freight sector.
"All of this suggests the supply side will be very accommodative in 2023 and beyond.  The balance of supply and demand in early 2023 will be a mix of mediocre or flat demand combined with strengthening supply. The clear implication is that freight rates will continue to weaken.
"When this will end will, in greatest part, be decided by the American consumer. If and when consumer demand in the US recovers, air freight rates will recover.
"This is a strong signal that air freight rates will be under downward pressure in Q422 to at least Q1 23, and very probably following quarters," Ti concluded.