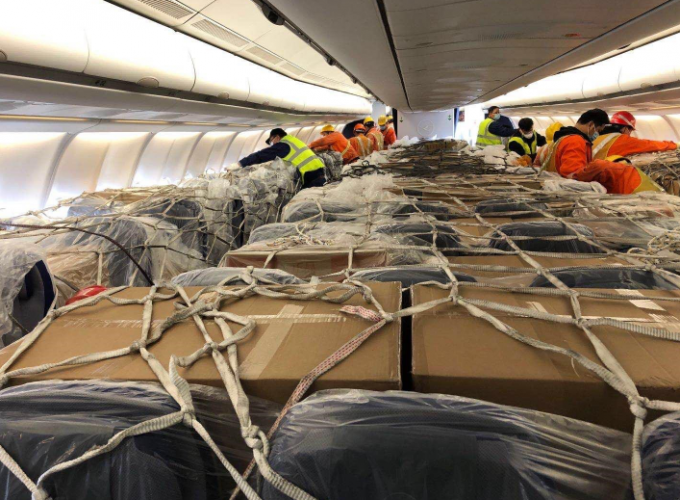 Cargo and passengers will not be allowed to travel in aircraft cabins at the same time, according to new EU Aviation Safety Agency (EASA) guidelines.
But the rules for national authorities, released last week, appear to give airlines 'carte blanche' for eight months, and have been condemned for being vague.
While the rules repeat that "the passenger cabin is not approved as a cargo compartment", it adds that "an exemption … is needed".
The period of exemption, the rules say, should refer to "the duration of the Covid-19 outbreak in the member state, but in any case should be less than eight months".
The guidance adds: "The exemption should allow, on a temporary basis and as applicable or necessary, the transport of cargo and a limited number of crew members in the passenger cabin. Cargo items may be installed on seats, with adequate restraint systems/means, or, if seats are removed, directly attached onto the aircraft floor using the available seat tracks."
However, the guidelines, according to one aviation expert, "start off in a promising way, but rapidly deteriorate into a blanket approval, albeit with superficial requirements".
One of the non-specific stipulations is the number of crew: flights require "an adequate" crew, but do not state the number or qualifications needed.
"Typical EASA," said the expert, adding that the final statement is "very vague" – "For flights not falling under the scope of the basic regulation, the NCA may use these guidelines with the necessary adaptations."
The US FAA guidelines, published in April, differ slightly.
"Section 121.285 allows cargo to be transported within the passenger cabin. It is an extraordinary situation, however, for an entire passenger cabin to be loaded with cargo. Passenger cabins are not designed for an all-cargo configuration. Accordingly, this SAFO provides information and recommendations for certificate holders to better evaluate regulatory implications and safety risks when transporting only cargo inside the passenger cabin of an airplane operating under part 121."
It goes on to point to risks, and evaluations airlines should make.
However, the use of passenger aircraft for cargo-only flights is expected to tail off now the global demand for PPE has declined. Lufthansa said last month that it had hit its peak for passenger aircraft. And Accenture's Seabury consultancy said today: "After a period of strong growth, passenger freighter capacity from China started to decline mid-May and declined another 16% last week, a decrease of 3,800 tonnes when compared with the previous week. Half of the decline is because of reduced belly capacity from Shanghai."
However, some passenger players are expected to stay in the game for a while. One charter airline told The Loadstar: "For us, it's better to operate cargo flights than parking [the aircraft] on the ground, as the passenger business won't come back in the same volumes any time soon."
Another source added that while air freight rates remained high, passenger aircraft would continue to fly cargo. But he warned: "Only lightweight cargo can work, like mail, e-commerce and PPE. One or two aircraft will work, and probably for around two years or so. But they'll need to operate where there is labour to offload and load cheaply; so, secondary markets."
However, the loading and unloading of passenger freighters is adding to the congestion seen at primary airports, as The Loadstar reveals elsewhere today.