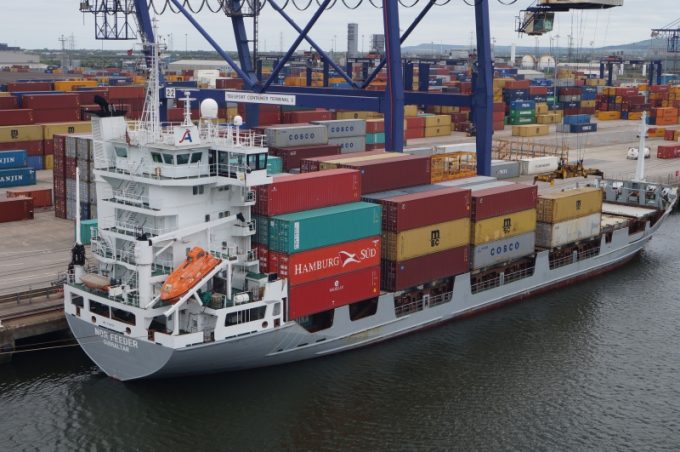 UK retailers have been mitigating the dearth of export capacity on offer from Asia for the main container hubs of Felixstowe, Southampton and London Gateway by chartering space from ad-hoc providers for discharge at smaller ports.
Moreover, with thousands of containers packed with Christmas goods stranded at ports on the continent, the left-field strategy of taking a chance on entrepreneurial carriers and NVOCCs has paid off for some major retailers, ensuring empty shelves are kept to a minimum in the vital pre-holiday peak buying weeks.
As an example, the Cetus Star, a 33,800 dwt handysize bulk carrier, arrived at London Container Terminal, Tilbury, yesterday with a deck load of Uniocean containers from Asia, understood to be for a large high street retailer, with the boxes said to be available for collection today.
Indeed, many such import loads have been brought into the UK over the past few months on non-cellular ships by a number of enterprising operators.
The sailings, which often deploy multipurpose ships like the Cetus Star, are mostly advertised for discharge at main UK hubs, but generally off-load the boxes at secondary ports.
One UK NVOCC told The Loadstar that to be able pick-up boxes promptly and cost-effectively he much preferred to avoid the main hubs.
"We know that if the containers arrive at Tilbury, we can get them picked up within a couple of days, whereas at Felixstowe, for instance, it could take us two weeks to get haulage. It is also far cheaper.
"The bill of lading might show Felixstowe, but we know that the boxes are unlikely to come out there. It can be a bit last minute, as the operator negotiates with an alternative port, but our customers understand that and are just very grateful to get their hands on their product," he added.
Meanwhile, a number of UK-based NVOCCs The Loadstar has spoken to are now booking cargo with carriers with a final destination of Rotterdam or Antwerp and then arranging transhipment themselves.
"We can normally get a booking, it's cheaper and we don't have to wait weeks for the carrier to arrange a relay," said one contact.
A large forwarder told The Loadstar at October's Multimodal exhibition carriers were no longer "impressed by the quality of its customer portfolio".
He explained: "Once upon a time the shipping line would 'drop its trousers' if we mentioned that one of our blue-chip clients needed its boxes urgently, and would even try to give them a 'top stow' to enable easier access. Now they don't seem to worry who they upset.
"Since the pandemic, they just don't care, or at least that's how it seems to us; they don't answer the phone, and e-mails just get lost in a sea of similar requests and complaints," he added.