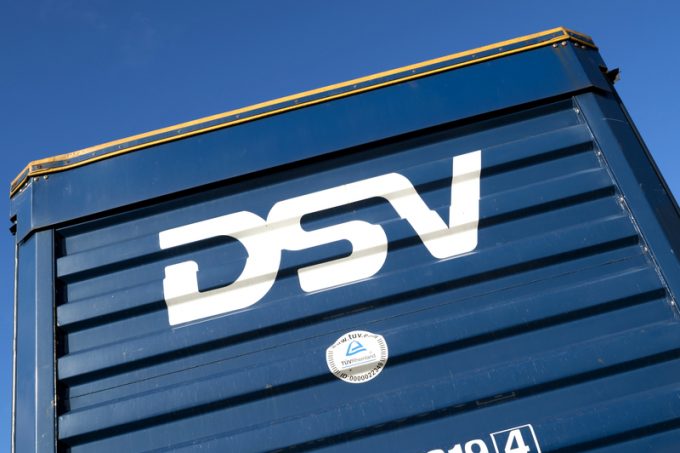 DSV Panalpina today reported its first full quarterly results since the Danish forwarder acquired its Swiss rival last August, and reported a year-on-year fourth-quarter ebit surge of 33%.
The company posted an ebit of Dkr1.784bn (US$261.7m), which was around 2% ahead of analysts' consensus and was driven by better-than-expected results in its contract logistics arm, while its air and ocean freight forwarding was in line and road freight came in below expectations.
DSV said that 9.9% of its growth was organic, while the Panalpina acquisition accounted for 13.1% of the increase. The group earned quarterly revenues of Dkr30.1bn, while full-year revenues came in at Dkr94.7bn, compared with Dkr79bn in 2018.
Full-year ebit for 2019 was DKr6.65bn compared with DKr5.54bn in 2018.
It largest division comfortable remained its air and sea freight forwarding arm, which took an even bigger proportion of group revenue after the Panalpina acquisition, and posted a quarterly ebit of DKr1.19bn against Dkr897m in Q4 18, while full-year forwarding ebit was Dkr4.5bn against Dkr3.69bn the year before.
It said growth in air freight volume was up 55% in 2019, "mainly driven by the addition of Panalpina", while the legacy DSV air volumes declined 2% "and were, especially in the second half of the year, impacted by the weak market".
It added that the global sea freight market grew an estimated 1-2% in 2019, "in line with the underlying economy.
"The Asia-Europe, transatlantic and intra-Europe tradelanes saw good growth during 2019, whereas transpacific was impacted by the trade tariffs between the US and China," it explained in its full-year report.
Its sea freight volumes grew 32% for 2019, largely due to the addition of Panalpina, while the growth in legacy DSV sea freight volumes came was 6%.
Its road transport division reported an annual ebit of Dkr1.25bn compared with Dkr1.15 bn in 2018, while its contract logistics division saw ebit improve to Dkr1.01bn from Dkr709m in 2018.
Jefferies equity analyst David Kerstens wrote in research note this morning: "We think there is further upside from cross-selling DSV's road and solutions expertise and value-added services in Air & Sea to Panalpina customers. Based on the experience from earlier acquisitions, productivity generally further increases once the integration has been completed."
The company has been one of the most significant merger and acquisition players in the industry, but Mr Andersen ruled out any further activity in the near future, after being asked by one investment analyst whether it was interested in acquiring the European assets of XPO Logistics, which are reportedly up for sale.
"We noted that XPO has initiated some sort of process, but we are 100% focused on Panalpina – we don't have either the appetite or the energy to look at further acquisitions at this time.
"Most these XPO assets have passed by our office a few years ago; we know them well and you can read into the fact that we passed on these assets then that shows what we think of them," he said.
"Carrying out a global integration of a company roughly half the size of the existing business is a significant task that requires our full attention everywhere in the organisation. We are tracking the plans, and we expect that the majority of the integration will be completed by end of 2020," he said.
DSV management said the integration was now around 60% complete.