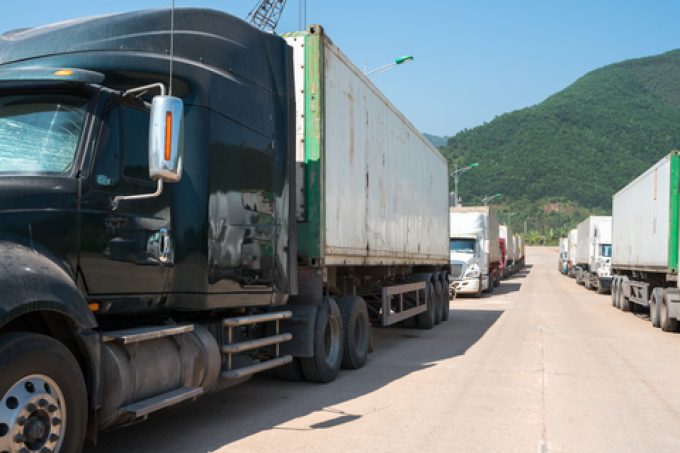 Digitising queuing practices at border crossings can address the worsening congestion in the road haulage sector.
Trade facilitation officer at the International Trade Center (ITC) Alina Fetisova has urged more governments to trial electronic truck queuing systems after a number of successes around the world.
Ms Fetisova told the World Cargo Summit in Abu Dhabi last week: "Governments need to get onboard with electronic truck queuing as a way to simplify procedures that cause unnecessary delays."
According to data supplied by the ITC, for each day of delay, a product loses 1% of its value, and Ms Fetisova considered time delays significantly more detrimental to trade flows than tariff barriers.
The technology essentially provides truckers a date and time of arrival for their border crossing and has shown great promise in countries that have deployed it.
Estonia has been using electronic queuing for haulage since 2011, eliminating some 50 million hours of waiting time along its borders since then – equivalent to cutting waits per truck from 60 hours to 1.5 hours – and netting €4m in annual savings.
Systems have also been set up in some parts of Turkey and at the Yagodyn-Dorogusk international checkpoint between Poland and Ukraine began trials in December.
The IRU has also shown itself to be supportive. A spokesperson told The Loadstar the union would like to see it used in combination with "digital green lanes", giving priority for trucks using customs transit guarantee schemes, like TIR. Operating for four decades, TIR is a global system that allows road transport service providers to declare their data only once when moving goods across multiple borders.
"We support [queueing software] systems likes these because they both improve driver working conditions and make transport more efficient," said the IRU spokesperson.
"All regions would benefit; one example right now is across southern Black Sea countries between the EU and Central Asia that has seen significant trade flow increases across borders."
One haulier said that "in principle" there was a merit to piloting the technology across Europe, but believed the system would prove less practical for addressing the port-based congestion that has attracted headlines over the past 18 months.
"But for border crossings, it is a good idea as long as it has some inherent flexibility built into it," the haulier told The Loadstar. "By flexibility, I mean I think it would require a decent arrival time-window – say two hours – so they are not turning you away if you arrive two hours early; because, as ever, there are a lot of variables involved like weather, strikes and breakdowns."