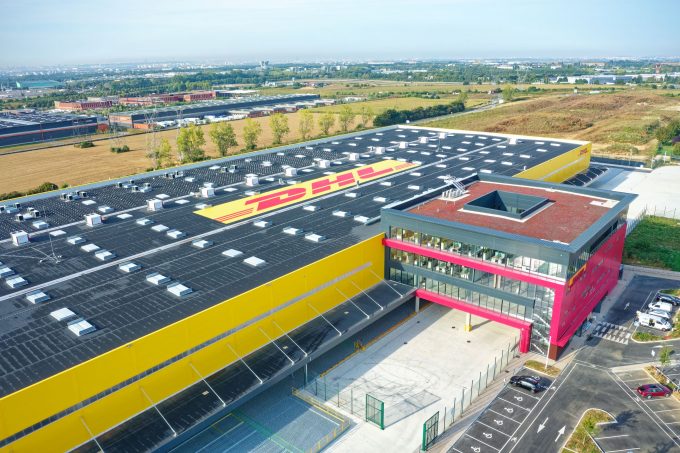 Global supply chain "traffic jams", clogging up air and ocean freight lanes, are pushing more "heavy" freight towards express service providers, according to one leading integrator executive.
Speaking today at Paris-Charles de Gaulle Airport, as DHL Express unveiled a €170m ($197m) international hub, Travis Cobb, operations director, told The Loadstar there were definite signs of modal shift as shippers run out of air and ocean options into key import markets, as the Q4 peak holiday season loomed.
"When ports start backing up from an ocean freight perspective, normally that demand will go to air freight," he said. "But there is no belly capacity, and all the freighter capacity is utilised. So, without that lever to go from ocean to air freight, we are seeing that heavier profile of shipment come into our network."
Demand for heavier shipments to be moved by express operators is particularly strong into the US, where shipping delays have become acute and prices have soared. But Mr Cobb said the trend was apparent globally.
"We are seeing it everywhere," he said. "The transatlantic is one example, but even outbound from the US, without the belly capacity that traffic is coming into us."
He was optimistic that, even post-pandemic, many shippers forced to use express options due to the dearth of other options would remain customers due to the "much better and quicker" services.
"It's going to be interesting as we come out of the pandemic how much of that volume stays with an express company like us, versus going back to air freight or ocean freight," he added.
Deutsche Post DHL Group is having a record year, with operating profit doubling year on year in the second quarter, to over €2bn. Much of the profit was delivered by DHL Express, which saw ebit more than double in Q2, to almost €1.2bn. Group earnings for the full year 2021 are now expected to reach more than €7bn.
Mr Cobb said DHL Express's investment in new aircraft and a string of hubs around the world, including the new Paris facility, had left it well positioned to benefit as shippers ramped-up deliveries in Q4 ahead of the holiday season.
"We've spent the past 12 months building massive infrastructure and hiring over 10,000 people, so we can handle whatever shipments our customers need," he said.
In particular, he added, DHL Express had taken advantage of the delivery of its new fleet of 14 B777 freighters during the pandemic, and four more B777s are due for delivery in each of 2022 and 2023.
"We did that [B777 investment] business case as replacements for older B747s but, as they've been delivered, instead of replacing the B747s they have given us incremental capacity that has enabled us to step up and dedicate capacity following the loss of all the belly cargo space. So, looking at Q4, we are in a fantastic position."
The new facility in France is DHL Express's fourth-largest hub across its European network, in terms of size and parcel processing volume, behind Leipzig, East Midlands and Brussels. The hub is on a 91,000 sq metre site and features a €45m sorting system, with processing capacity for parcels and fliers of 38,000 pieces an hour, 15 times more than the existing facility.