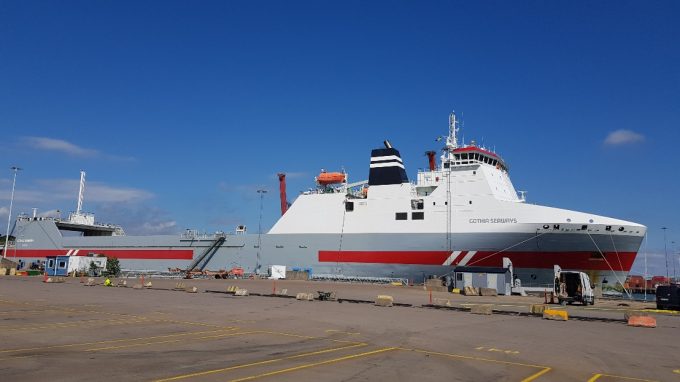 DFDS is set to inject further capacity into UK-continental Europe supply chains on 1 June, when its launches an unaccompanied ro-ro service between the port of Sheerness, on the juncture of the Thames and Medway rivers, and Calais.
The daily service, one sailing in each direction, will be operated by DFDS's ro-pax vessel, Gothia Seaways (pictured above), which has capacity for 165 unaccompanied units and is currently deployed on the Baltic Sea.
Wayne Bullen, freight sales director at DFDS, said: "We're really pleased to be adding a new unaccompanied freight service to the extensive route network that DFDS already offers.
"Sheerness benefits from excellent road links and is closer to the M25 than other routes, making it ideal for goods heading to the London area and the Midlands.
"It promises to be a superb 'partner port', with an ambitious plan to grow its services over the next decade.
"We also continue to cement our partnership with the port of Calais and are excited to be expanding our services to the port as it marks the fulfilment of its multi-million-pound expansion project," Mr Bullen added.
The new service will be Peel Ports-owned Sheerness's first regular ferry service since Olau Line ceased calling in 1994. Since then, however, it has cemented its position as a key hub for finished vehicle shipments.
Richard Goffin, Peel Ports London Medway port director, said the new service would create around 100 new jobs at Sheerness and added: "The combination of challenges posed by Brexit and Covid-19 has exposed drivers and haulage companies to vulnerabilities in supply chains worldwide.
"This has resulted in many cargo owners and carriers re-assessing their transport plans and choosing different ports, different shipping methods and switching transport modes in order to preserve supply chains.
"Given current restrictions surrounding international travel, stricter border controls and Covid-19 threats, one of the most standout benefits is that by using driverless methods, the risk of delays associated to those particular challenges is reduced. Our dedicated ro-ro facilities can accommodate unaccompanied freight, providing a huge opportunity for ro-ro operators to gain uncongested access to London and the south-east, saving on steaming time."
He believes the new service will also "exploit capacity partly enabled by resilience funding from the UK Department of Transport in 2019".
Meanwhile, DFDS is also investing in its cross-Channel services, with the forthcoming arrival of its latest newbuild ro-pax Cote d'Opale, which will debut on the Dover-Calais route in the summer.