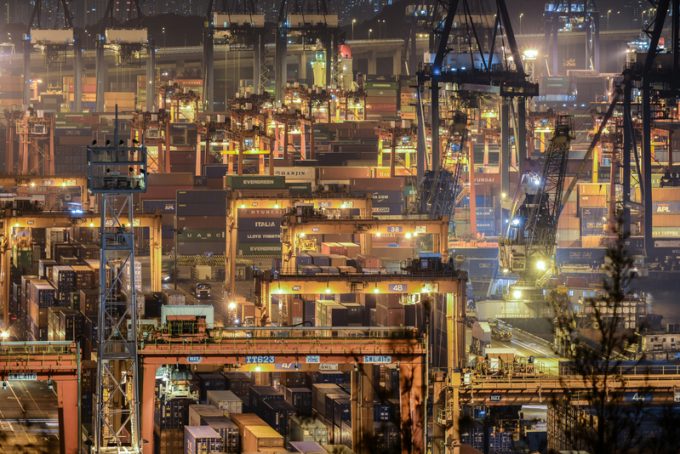 Today's Shanghai Containerized Freight Index (SCFI) comprehensive index was up 2.1% this week reflecting a stable spot market for container shipments from Asia.
The North Europe component of the SCFI ticked up by 1.8% to $788 per teu and crucially held onto the previous week's gains.
There was also an 8.9% uplift in spot rates for Mediterranean ports to $756 per teu.
There was a similar story on the transpacific tradelane where carriers not only succeeded in making the previous week's hikes stick, but were also able to add 4.6% from Asia to the US west coast, to $1,468 per 40 ft, and an additional 2.6% for US east coast ports to $2,433 per 40 ft.
Other container spot indexes, such as Drewry's WCI and the newly-launched Freightos Baltic Index (FBX) have recorded comparable values but it remains to be seen whether carriers can make further rate restoration progress in time for the critical peak season volumes.
For Asia-North Europe, Andrew Scorer, senior container pricing specialist at S&P Global Platts, believes that a mid-month increase is on the cards, given the current healthy load factors.
"Vessel utilisation levels are increasing and the majority of carriers are staying in the mid-90s for May and June," said Mr Scorer.
Meanwhile, UK-based forwarder, Westbound Logistics, has told its clients that to expect rates to soften before climbing again from 1 June.
Interestingly Westbound takes a cautious view on offers of cheap rates from carriers.
It warned: "It is important for us as forwarders to be looking out for any alarming signs, although cheap rates are often tempting, it is not always the best option over reliability and service."
Indeed, the risk of failure of another carrier was the primary concern of many shippers and forwarders that The Loadstar spoke to at this week's Multimodal show in Birmingham.
Media reports of overcapacity and worsening schedule reliability are all "red flags" to his board, one shipper told The Loadstar.
He explained that he did not book with Hanjin but still had a number of containers caught up in the messy aftermath in September 2016 as Hanjin-operated CKYHE alliance vessels were impacted.
"Since then we have tightened up our financial checks internally and we are barred from using one carrier, or even booking with an approved carrier that is due to load on one of its ships," he said.
It is too early to know how the major lines are doing so far this year – however, rates have been soft; fuel prices have been rising and the lines are taking hits from other inflationary pressures such as more expensive charter ships.
Yet there were also positive operational numbers from OOCL which give an encouraging feel of higher volumes underpinned by an 8% uplift in its average rate per teu, versus the first quarter of 2017.
However, in contrast its potential new owner, COSCO, saw its profits slump by a third in Q1, compared to the same period of the previous year, despite, or because of, an aggressive 12% leap in its liftings.