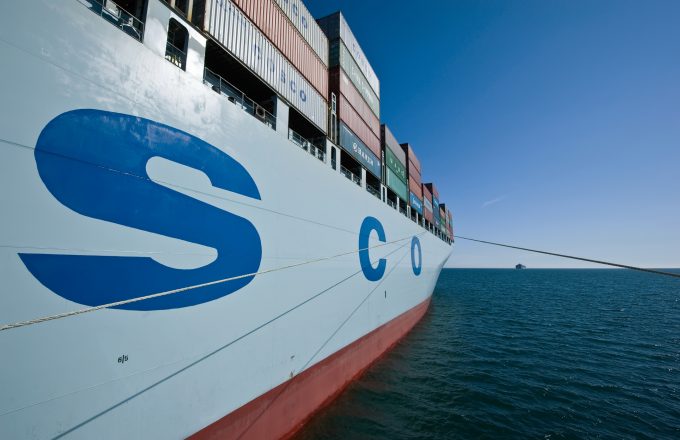 Chinese shipping giant Cosco Shipping Holdings today reported a 35% year-on-year increase in revenue for the third quarter as sit swung back into the black.
It also announced plans to raise almost $2bn through a share placement.
The company said the new funds would be used to pay the remaining bill for 20 containerships on order: five of 13,800 teu; four of 15,570 teu; five of 20,120 teu; and six 21,240 teu vessels.
Cosco recorded group revenue of Rmb67.6bn (US$10.1bn) for the first nine months of the year, following last year's nine-month loss of Rmb8.1bn with a profit of Rmb5.4bn.
This result came on the back of a 20% improvement in freight rates – both contract and spot – out of China and year-on-year volume growth to reach 15.5m teu.
It revealed that its largest trade was Chinese domestic routes – 30% of its carryings – followed by intra-Asia, Asia-Europe and then the transpacific routes to North America's east and west coasts.
In terms of revenue, however, the China trades represented only 15% of Cosco's total earnings. Its largest trade was the transpacific, accounting for 28% of its liner sales, followed by Asia-Europe at 25% and then intra-Asia, including services to Australasia, which accounted for 21%.
With the integration of the Cosco and China Shipping container fleets completed last year, and notwithstanding its forthcoming takeover of OOCL, Cosco continues to have one of the fastest-growing fleets in liner shipping, up 11.4% this year to reach 1,837,303 teu capacity across 358 vessels. Average vessel age was 8.9 years.
Its terminal operating subsidiary handled 64.9m teu during the first three quarters, representing a year-on-year increase of 13.5% – although that throughput figure is not equity adjusted for the specific size stake it has in each operation.
However, Drewry Maritime Equity Research reports Cosco Shipping Ports third quarter throughput as 4.36m teu, a year-on-year growth of 12.3%.
Drewry cautioned that although overall revenue increased 8% to reach $155.6m for the third quarter, revenue per container fell 3.9% to $35.7 per teu.
"The growth by the company comes almost exclusively from its affiliation with Ocean Alliance members through Cosco Shipping," which, it claimed, limited the port operating division's profitability.