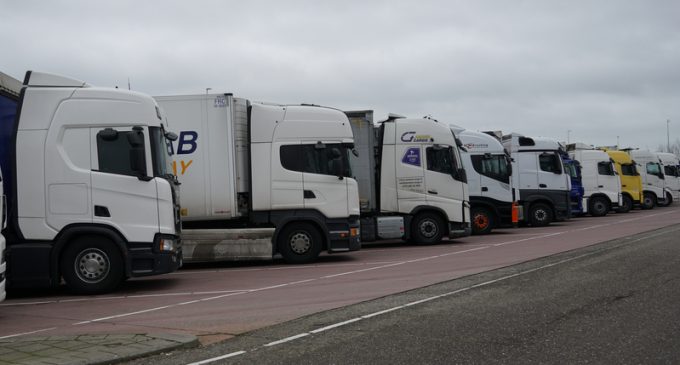 The road freight industry has lost over half a trillion euros in revenue due to the coronavirus pandemic, new research from the International Road Transport Union (IRU) has found.
"Our research points to the immediate need for measures targeted to the industry that match the scale of the current situation," said IRU secretary general Umberto de Pretto.
"Even at the peak of the crisis, road transport remained flexible, operational and continued to play its unique role. Now, global recovery efforts are endangered without clear government action to support road transport operators," he added.
The research, garnered from IRU member countries, found road freight operators across the world had experienced an average decline of 18% in revenue this year, which globally amounts to €550bn – although some regions have been harder hit than others.
It said operators in the Middle East and North Africa had seen an average decline in revenue of 22%, and Asian operators 21%. It was even worse in China, Argentina and Iran, where the revenue declines had breached 30%.
Europe has fared slightly better, with road freight revenue down €64bn, equating to a 17% drop.
The IRU added that companies "reported that more restrictions were put in place than facilitation measures during peak confinement periods, further impacting the industry".
Mr de Pretto added: "These new findings are alarming. Every single road transport operator that goes bankrupt will impact the movement of people and goods."
Road Haulage Association CEO Richard Burnett explained to the UK's all-party Parliamentary Transport Select Committee on Tuesday how some sectors of the road freight industry had been hit harder than others.
"The container transport industry has collapsed, while the big 3PLs, which used to subcontract a large amount of their volumes to smaller haulage firms, have instead been using their own fleets to supply goods.
"It is important to remember that 85% of the UK's haulage market is in the hands of SME operators, and we need to protect the smaller regional hauliers, making sure they are still around at the back end of this year."
And he added that, while the employment furlough scheme had been "very successful" for many operators, other measures only had a limited shelf life.
"We might have negotiated lease payment holidays for tractor and trailer units, but the leasing companies simply cannot sustain this indefinitely," he said.