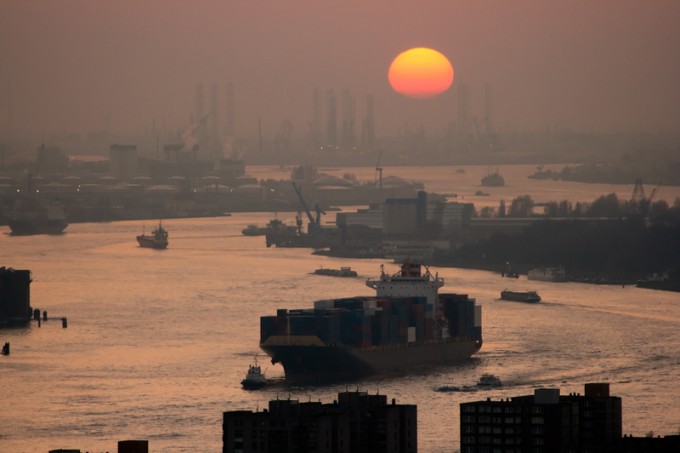 Container volumes powered Port of Rotterdam to a strong first-half finish, with a 6.4% upturn in container volumes driving throughput up 3.4%.
However, chief executive Allard Castelein predicts dark clouds ahead and expects a slowdown over the remainder of the year.
"In the macroeconomic field, relations between the world's major trading blocs remain strained," he said.
"There is also uncertainty about the introduction of trade tariffs post-Brexit and both developments are rendering the prospects for the growth of world trade uncertain.
"Given the global uncertainties mentioned here, Port of Rotterdam Authority expects a slight weakening of the growth in cargo throughput in the second half of 2019."
Container volumes hit 7.5m teu for H1, a new record, largely driven by higher import and transhipment volumes. But although ro-ro volumes climbed 2.7%, there was a marginal 0.3% dip in general cargo.
One source told The Loadstar: "They're already playing down the second-half outlook, with carriers already having pulled about 150,000 teu of headhaul North Europe capacity in the usually heavily booked peak season weeks, and I expect it will not end there."
While acknowledging the uncertainty in the market, Port of Antwerp was less pessimistic. Total volumes for the six months to June were up 0.7% on last year's record performance, the box trade again being singled out for praise by chief executive Jacques Vandermeiren.
"Container throughput continues to expand, which is good news for our leading position in the worldwide logistics chain," he said.
"However, achieving the desired modal split remains a focus of attention. Ongoing efforts are aimed at getting more containers carried by rail and barge."
Some 5.8m teu passed through the port in H1, an increase of 4.9%, following a strong start with back-to-back records in April and May.
Like its Dutch neighbour, most of Antwerp's growth was due to rising transhipment volumes from all areas, barring South America. Alderman Annick De Ridder said: "Antwerp is continuing on its growth trajectory despite the current international climate.
"We are particularly proud that once again we have been able to achieve record figures in important segments.
"These figures once more underline the need for additional container capacity and I am fully convinced that, together with our partners, we will continue along this growth path."