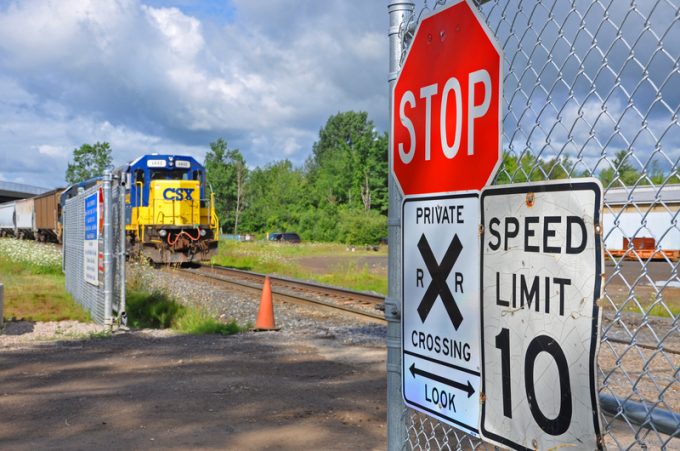 CSX is turning away business. The Class I rail company is struggling to meet demand, acknowledged CEO Jim Foote. He blamed the problems on shortages in manpower, saying that the company has struggled to recruit sufficient staff.
He said that CSX is missing out on "lots of business".
This is ominous news as ports, forwarders and importers are bracing for the expected surge in traffic from China after the end of the lockdown in Shanghai. Rail capacity was one of the bottlenecks in the congestion of 2021, and everybody is anxious to avoid a repeat of that experience.
There were already concerns about the rail network before the news from CSX. Average dwell times of intermodal boxes at container terminals on the west coast have crept up over the past months. At the port complex of Los Angeles and Long Beach they climbed from 7.7 days in March to 9.6 the following month. According to the Pacific Maritime Association, which represents the container terminal operators and lines on the west coast, this is three times higher than what would be necessary to ensure fluid operations.
Up the coast in Oakland box dwell times average nine days, and the Northwest Seaport Alliance (NSWA) reported a two-digit day count.
Port authorities are concerned that rail problems could undermine progress on the marine side in clearing backlogs and getting ready for the anticipated spike in traffic. The NWSA has attributed the longer box dwell times to shortages of rail cars, locomotives and crews. Gene Seroka, executive director of the port of Los Angeles, commented that the port could clear out the rail containers at its terminals within two weeks if Union Pacific (UP) and BNSF were to up their capacity.
Both railways have added equipment and intensified their drives to recruit staff, but finding sufficient labour continues to be a headache. CSX's Mr Foote said that his company's annual attrition rate had grown from 7% to 10%. A recruitment drive brought in 1,000 rail workers last year, but this just about covered the number of employees who left the company.
Rail workers are not upbeat about their situation. Their unions have called on the National Mediation Board to declare an impasse on their contract negotiations, which got under way in 2020, and offer arbitration. They expressed frustration over lack of progress in the negotiations, saying that pervious job cuts and other cost-saving steps had placed a huge burden on their members, while their pay has been eroded by inflation.
For their part, the rail companies have signalled a willingness to discuss wages and benefits, but they are less likely to give in on work rules, especially the plan to migrate to one-person locomotive crews, which is opposed by the workers.
Trouble is also brewing with chassis availability. A few days ago, UP warned that it would be forced to stack containers owing to the lack of chassis. This has been described as a problem specific to the west coast gateways, but chassis are reportedly also in short supply in Chicago, Dallas, Kansas City and Memphis.
On top of delays resulting from having to deal with stacked containers, the issue could also be another flashpoint between rail carriers and clients. UP has warned that it would not extend free storage time or waive demurrage charges because of a lack of chassis. Unlike BNSF, UP does not allow beneficial cargo owners and their agents to use their own chassis.
Turn times have gone up at rail hubs in the interior, notably Chicago, Memphis and Kansas City. Last year UP found itself forced to meter traffic from west coast gateways for some time to deal with clogged up inland hubs.
If the expected surge in volume from Shanghai is going to play out as anticipated, importers and everybody involved in moving imports in the US will likely feel an acute sense of déjà vu in the weeks ahead.