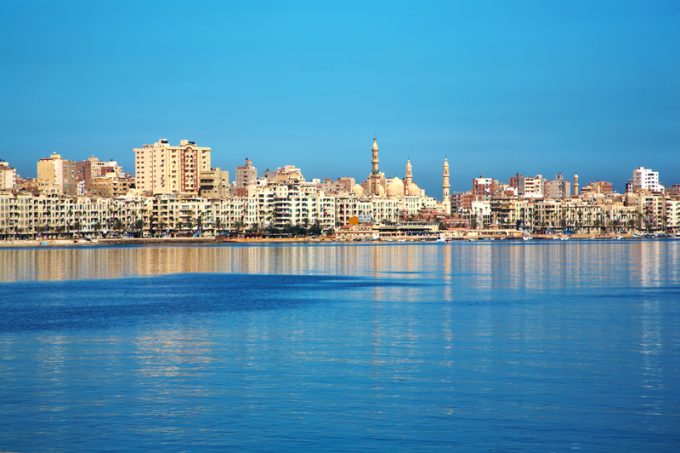 As competition for Mediterranean container traffic heats up, CMA CGM is set to operate a new container terminal at Egypt's port of Alexandria.
The French shipping group will manage the multipurpose, 1.5m teu capacity facility, Pier 55, with operations commencing next year.
It is the second major box terminal deal for Egypt in six months and follows Hutchison's August deal to develop a $730m terminal at Abu Qir, just 20km away, with the first phase of the 2m teu capacity facility also opening next year.
CMA CGM said Pier 55 would have a 2km quay, to "facilitate the deployment of the group's larger vessels." It would "strengthen its strategic presence" in the Mediterranean, where it operates five other terminals with a combined capacity of around 7m teu.
"At the crossroads of Africa, Asia and Europe, the Mediterranean represents a major area for the development of the group's operations in maritime transport, port operations and logistics," the company said.
Alexandria handled 851,000 teu in 2019, up 7% year on year, but faces strong competition from fast-growing neighbour Port Said, which, at the mouth of the Suez Canal, saw 22% growth in 2019, to 3.8m teu.
But Eleanor Hadland, senior analyst for ports and terminals at Drewry, said Egypt had plenty of room for volume growth.
"Alexandria remains the main Egyptian port for import/export cargo," she told The Loadstar. "The Egyptian market has strong growth – it has a large population and relatively low gateway volumes compared with similar-sized economies."
CMA CGM focuses its intra-Med services at Alexandria and El Dekhalia, with deepsea services calling at various hubs, including Port Said and Damietta. Ms Hadland said: "Relocation of deepsea services to a new facility at Alexandria will require agreement from alliance partners, but the scale of the planned new terminal will put services currently calling at common-user facilities in Port Said and Damietta in the spotlight."
The French group's investment comes at an interesting juncture, following its decision to offload a portfolio of port investments to Terminal Link, a joint-venture in which it holds 51% and Chinese port operator China Merchants the remaining 49%.
The Loadstar understands the new Alexandria facility will be operated by fully-owned subsidiary CMA Terminals.
Drewry pointed out last year the market for new terminal investments would likely be subdued on the back of the Covid-crisis, and Ms Hadland said while the financial situation of shipping line affiliated terminal operators has "certainly improved" since then, the port development market as a whole would still have to compete for limited funds.
"Investments in terminals are still competing with other segments such as liner operations and logistics," she explained. "Therefore only the most compelling businesses cases will progress – especially given the broader economic uncertainty in the medium-term when the fall-out from the pandemic really hits home."