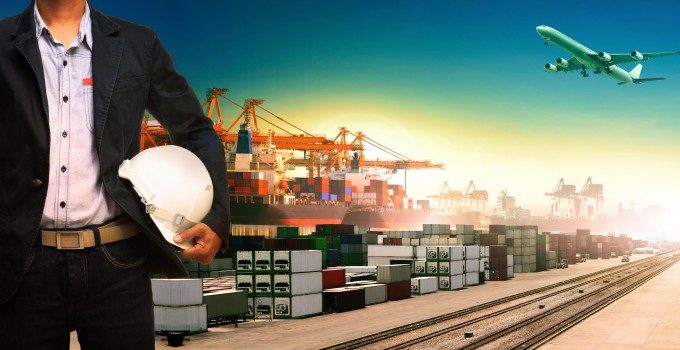 Meet the world's largest container vessel, pictured at her maiden call at the Chinese port of Ningbo yesterday – CMA CGM's Marco Polo, a 16,000teu ship that was deployed onto the container shipping line's FAL 1 Asia-Europe service, replacing one of the 11,000teu vessels currently operating the route.
Here's the official line from CMA CGM's Nicolas Sartini, group senior vice-president of Asia-Europe: "It is with great pride that the CMA CGM group launches this new vessel, which is the largest in the world. It shows the expertise of the group's teams, who are able to handle not only the very technical piloting of the ship but also its commercial operations.
"Our entire network of 400 agencies all around the world is active to ensure the successful launching of this ship. The CMA CGM Marco Polo is going to join the FAL service, the backbone of the Group's network of lines.
"This launching reinforces the group's strategy, which began 20 years ago, with the opening of its own offices in China, and continues today with 34 services going from China to Europe, to North and South America, to Australia and Africa – one departure every five hours."
On the same day, Mediterranean Shipping Co announced that it is to introduce a new general rate increase (GRI) of $600 per teu from Asia to both North Europe and the Mediterranean, despite the inconsistency between supply and demand.
The CMA CGM Marco Polo has entered into service during one of the most volatile periods that the Asia-Europe container shipping trade has ever witnessed, as shown by the rollercoaster graph, in dollars, below, courtesy of the World Container Index (WCI).
However, a GRI introduced at the beginning of November by carriers for the most part stuck, according to the consultancy.
Drewry's freight rate benchmarking manager Martin Dixon said: "Spot rates responded very positively to last week's GRI, and achieved about three-quarters of the intended increase, although they have since fallen back."
Last week, ending 7 November, rates had risen by 38% week-on-week to reach $2,865 for a 40ft from Shanghai to Rotterdam, according to the WCI, which is assessed by Drewry.
"The carriers hardlined the GRI – they took some capacity out and load factors have gone up to around 85%, which enabled the increase," Mr Dixon said.
However, this week's WCI rate, due out tomorrow, will show a 2.2% decline to $2,802, and Mr Dixon said there could be further declines in the weeks ahead.
"We expect it to drop further because the load factors are quite good but will weaken and rates are likely to drop."
The problem is demand – North Europe is showing every sign of imitating its neighbours in the Med. According to Container Trade Statistics, volumes from Asia to North Europe in the third quarter were 5% lower than the third quarter of 2011, while in the Med they were 14% down on the year before.
"What is interesting is that on the Asia-Med trade a similar GRI failed, where load factors are very poor, consistently below 80%, and therefore rates have fallen.
"But earlier in the year rates to the Med were actually higher than rates to Northern Europe, and now that has completely changed around because demand is so poor as a result of the terrible economic situation there," he continued.
The WCI spot rate from Shanghai to Genoa fell by 7.9% this week to $1,901 – half the level that it was in May and at the lowest point since February. It is in an effort to reverse this that the CKYH alliance this week announced that it is to pull seven sailings from its Asia-Med loops from now until the middle of January, although Mr Dixon added that further capacity reductions are required to have any material effect on rate levels.
Shippers and freight service providers ought to be prepared for dropped sailings becoming a regular feature of the trade, not least because of the huge amount of tonnage due to be delivered. According to a forthcoming article shortly to be published in the next edition of Container Shipping & Trade, 333 post-Panamax ships are due to be delivered over the next three years, amounting to 3.3m teu of slots.
Compare and contrast: the current post-Panamax fleet operating is just over 1,000 vessels with a combined capacity of 7.8m teu, while of those ships on order or under construction some 142 are over 10,000teu size – representing 42% of the orderbook.
As a result most carriers have stopped placing orders, but that has left shipbuilders desperate for new business and consequently newbuild prices have declined dramatically, by 22% in a year (admittedly that is not as dramatic as some of the declines in carriers' own pricing…), and the net result of that is a different breed of shipowners have become attracted to the container sector – eager to snap up bargains, and evidenced by the slew of orders placed over the course of this year by cash-rich Greek owners such as Costamare, NS Lemos, Diana Container Ships, Danaos, Technomar and others.
And so the cycle could well enter a new phase over the next few years, with a new set of owners acquiring vessels at bargain basement prices, chartering them out at cut-price rates and making a further mockery of attempts to adjust ballooning capacity in line with willowing demand.