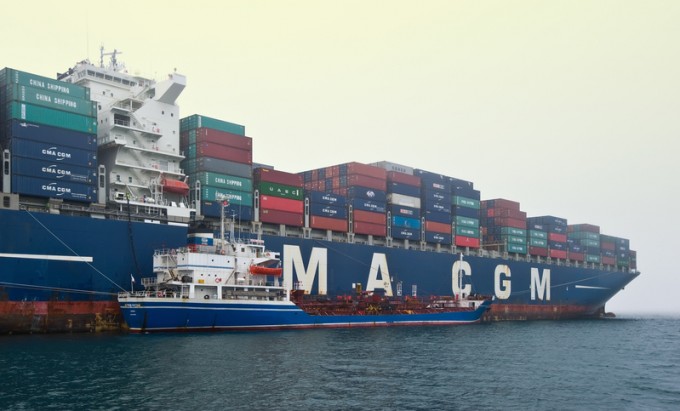 Despite winning market share in an otherwise flat market, French carrier CMA CGM suffered a $100m net loss in the first quarter of 2016.
This is a further marker that the quarter has been one of the worst for shipping lines.
The world's third-largest shipping line carried 3.2m teu in the period, a 2.9% increase on the 3.1m teu carried last year, and beats the 1.2% growth maritime analyst Drewry recorded for the market as a whole.
CMA CGM saw rising volumes on its transatlantic and transpacific services to and from the US, "which offset the decrease in volumes carried between Asia and Europe, where the group had scaled back its capacity in response to weaker demand".
In addition, its 1 July 2015 acquisition of north-south Europe shortsea specialist OPDR "also contributed to the increase in volume".
However, average freight rate per teu fell 17.6%, year-on-year – although the first quarter of 2015 was one of the strongest over the past few years.
Overall Q1 revenue was $3.4bn, a 15.3% decline on the prior year, when it turned over $4bn – as a measure of how freight rates declined so steeply: on 100,000 teu more than in the first quarter 2015 it earned $600m less.
However, pre-tax earnings came in at $3m, compared with $406m last year, while return on invested capital (ROIC) declined by 9.3 percentage points from 13.4% to 4.1%.
Rodolphe Saadé, vice chairman of CMA CGM, said: "In a very difficult environment, we have, in the first quarter, recorded an increase in volumes above the market average while maintaining a positive core EBIT margin.
"We will continue our strict financial discipline, including the implementation of a significant cost reduction plan.
"In addition, we are moving forward on our strategic projects, namely the proposed acquisition of NOL and the creation of a new operational alliance, Ocean, with a launching anticipated in April 2017."
He said there had been "a slight improvement in freight rates since 1 May" on the Asia-Europe and Asia-Mediterranean lines, but added that the environment remained "fragile".
CMA CGM's chief response to the deteriorating market is a $1bn cost reduction plan over the next year and a half, concurrent to its takeover of NOL and the creation of the Ocean Alliance.