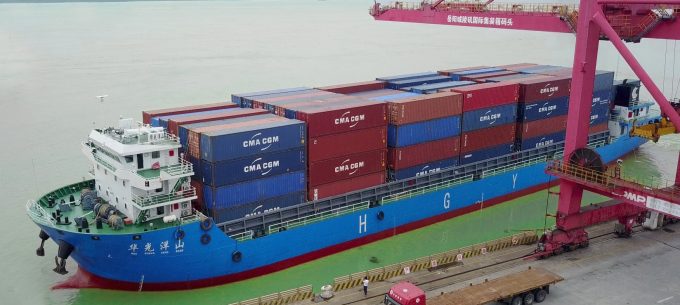 Chinese container barge operator and freight forwarder Higo Shipping has become the latest in a line of companies in the container shipping market in listing its stocks.
Owned by Li Weihong and his wife, Liu Hui, Higo plans to list about 25% of its shares on China's newest bourse, the Beijing Stock Exchange.
Based on a maximum issue price of Rmb8 ($1.19) a share, the IPO could raise around Rmb182.27m ($27.21m). Higo made the application on 28 June but did not specify a timeframe for the listing.
The Beijing bourse opened in November and, with its target being Chinese SMEs, is seen as China's version of Nasdaq.
Higo said its freight forwarding business had seen annual growth rate of some 20% in the past three years, with volumes totalling 159,434 teu last year, with barged volumes up 28% year on year, to 73,440 teu.
Mr Li, 59, gained experience in the logistics industry with Sinotrans' (now part of China Merchants) before establishing Higo in 2005.
In its prospectus, Higo says: "Due to the continuous expansion and the rapid rise in sea freight rates during the epidemic, the company's demand for working capital has increased significantly. At the same time, in order to enhance business diversity and risk management, the company has been actively cultivating new businesses, such as cross-border e-commerce logistics, in recent years, and the above-mentioned new businesses also require more capital investment.
"In addition, the company's shipping business is an asset-heavy business model and the operating costs of ships, such as fuel, repairs and maintenance, are relatively high. The company's current financing channels cannot provide sufficient working capital support for revenue growth. It is necessary for the company to raise funds to supplement the working capital demand gap to support future business growth."
Higo is based in Changsha, Hunan, and operates seven barges (five owned, two chartered) that ply the Yangtze River; and four barges (three owned, one chartered) that move containers to and from Shanghai's Yangshan Port. Annually, the fleet makes 627 trips. The company also provides trucking services.
Last year, Hugo's net profit grew nearly threefold to Rmb43.64m ($6.85m).
Higo is not the only company in the container shipping sector to turn to the capital markets. De Well Holdings, Excel Network and China United Lines have all applied for a Hong Kong IPO, while TS Lines boss Chen Te-sheng has said the company hoped to be listed in Hong Kong this year.