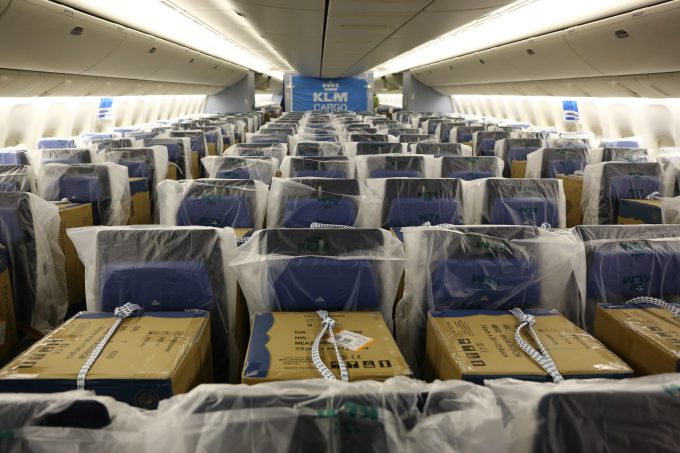 Cargo in aircraft passenger cabins will no longer be accepted by China in the new year – a move expected to keep air freight rates high.
China's Civil Aviation Administration (CAAC) said "only anti-epidemic-related items are allowed to be loaded in the cabin".
It added: "At the same time, the new regulations also require that cabin seats cannot be removed to increase cargo space. Aircraft that have removed seats or are undergoing modification projects should be restored to their original configuration."
The CAAC said the reason  was "mainly for safe transport considerations, to avoid hidden transport safety hazards caused by the inability of the cargo in the cabin to be effectively fixed".
But the authority acknowledged it would lead to additional pressure on the market.
"This new regulation will further reduce air cargo capacity and aggravate the current air capacity shortage. The superimposed fuel price is still high," it said.
"On the other hand, the tightness of air transport capacity may lead to part of the demand for air transport being transferred to shipping, leading to a further increase in shipping rates and, overall, freight prices are expected to continue to rise."
The three major state-owned Chinese carriers are said to have already started the process of returning aircraft to their original configuration.
However, both the European Union Aviation Safety Agency (EASA) and US Federal Aviation Administration (FAA) have extended their exemptions for cargo in cabins until July next year, indicating that non-Chinese airlines will continue to use them – but not in China, outside of Covid-related equipment.
Covid-related shipments however are currently creating large volumes. The past fortnight has seen a "tremendous increase" in demand, according to one Shanghai forwarder.
"It's been caused mainly by one commodity – Covid rapid testing kits – for which there has been huge demand in Europe, It's like what happened last year with PPE. Factory orderbooks are full, so it doesn't sound like the peak will soften soon."
He added that this had led to a variance in rates out of mainland China, where PPE is manufactured, and Hong Kong, which is focusing on general cargo and is seeing lower rates.
"Hong Kong is busy, but not as crazy as the mainland."
On the mainland, he said capacity remained low, with the majority of charters now taking place on passenger freighters, with the CAAC approving perhaps only half of all charter applications.
"A big shortage of capacity will remain a major issue. The new passenger freighter ban will be very strict and certainly reduce capacity, and elevate prices."
He also warned of challenges for supply chains once the Beijing Winter Olympics begin in early February.
"There will be a big impact on Beijing flights. Normally, [when there is an event in China] trucks are limited in their movements – no dangerous goods can be moved, no charters are approved and flights reduced to a minimum.
"We do not think there is any chance of the government relaxing the current strict quarantine requirements until after the games, so there will be little opportunity to get more flights or capacity into the market."
The transpacific market remains tight, he said, "the worst market". Cargo destined for South America is going via the US, as "there is very little capacity via Europe", leaving rates very high – "around $18 to $20 per kg", said the forwarder. Pure freighter charter rates are currently "sky high", at some $1.8m to $2m.
The forwarder said rates had risen 10%-15% this week and "we are looking at the highest ever rate level now, which is similar already to the record of last year" adding: "It's funny that even courier door-to-door prices could now be cheaper than air freight – but couriers are severely delayed too."