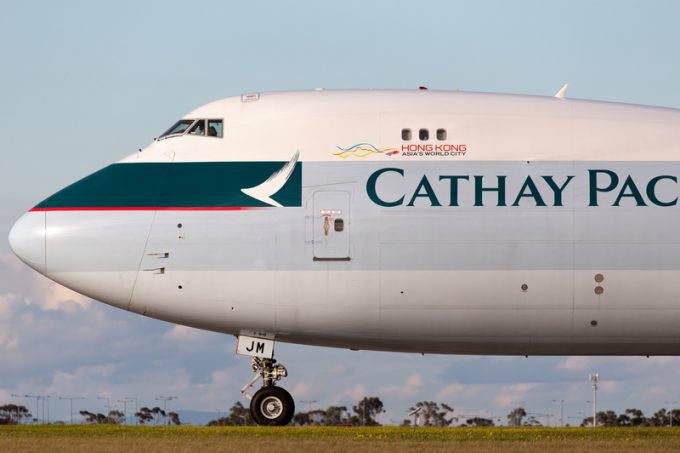 Cathay Pacific is to park 40% of its fleet and undergo a major restructure – once it has determined what "size and shape" will allow it to "survive and thrive in this new environment".
"We simply will not survive unless we adapt our airlines for the new travel market," said Cathay Pacific group chief customer and commercial officer Ronald Lam, as the carrier revealed it flew just 8% of its normal capacity in August, with passenger load factors down to less than 20%.
The carrier is burning between HK$1.5bn ($193m) and HK$2bn every month and "will continue to experience significant cash burn until the market recovers", it said.
Cargo is a bright spot, however, Mr Lam added: "Cargo remains the stronger performer in our business and we saw similar overall cargo tonnage and load factors in August as we did in July,.
"There were greater movements of pharmaceutical products and live animal shipments across the network, while our time-sensitive product, Priority Lift, was also in good demand."
Cathay is one of the many carriers that have put passenger aircraft to use for cargo. It removed the seats from two 777-300ERs in July and operated 436 pairs of cargo-only passenger flights last month, 23 of which had cargo in the cabins.
And the carrier believes the peak season will be good.
"We are cautiously optimistic of a reasonably promising cargo peak season, having received strong pre-orders that will serve the capacity needs of our customers," said Mr Lam.
But he warned: "Beyond the traditional peak season, however, prospects are very unclear. Regional geopolitical tensions and the ongoing China-US trade dispute could have a significant adverse effect on airfreight demand, and the situation has the potential to deteriorate rapidly."
The carrier did not offer details of the proposed restructure, but said a comprehensive review was under way and the changes would be made to "protect the company, the Hong Kong aviation hub and the livelihoods of as many people as possible".
Last week, Cathay turned down further government wage support, opening the way for redundancies.
IATA last week noted that cargo's share of airline operating revenue was increasing, from about 12% pre-Covid to more than 25% now.
"Cargo is much more important now," said IATA economist Brian Pearce. "When load factors were low, business travel drove the viability of routes. Now cargo is filling that gap."
But he added that while cargo was now an "important source of revenues…it is not enough to offset the decline in the passenger business".