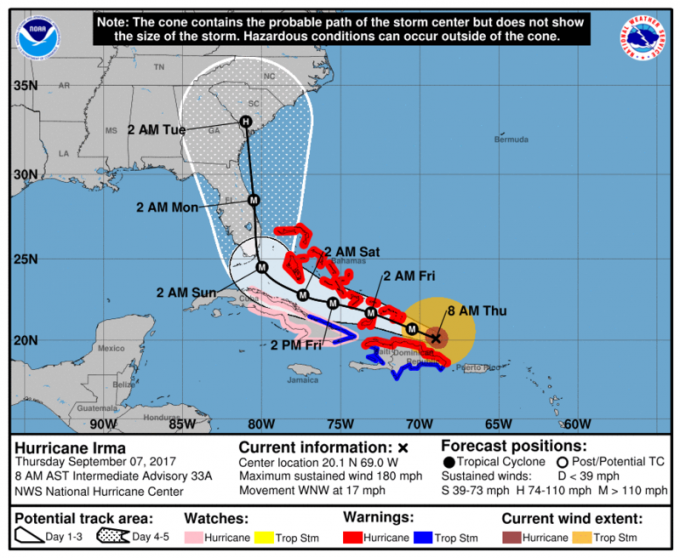 As Hurricane Irma continues to hurtle its way to the US, it has already caused devastation in the Caribbean, and nearly one million people are without power in Puerto Rico.
Florida is preparing for the worst.
United Cargo is temporarily closing its freight facilities and restricting all acceptance and movement of freight in four Florida cities, it said in a note to customers. Effective from today until further notice, its facilities at Miami International, Fort Lauderdale–Hollywood, Palm Beach and Southwest Florida airports will be closed.
"These restrictions may be modified pending the path and intensity of Hurricane Irma," it advised. "We will issue updates as the situation evolves. The closing of our facilities and complete restrictions on freight and mail movement are not decisions we make easily, but these steps are necessary to ensure the safety of our customers, employees and partners."
American Airlines said that operations in Miami, Fort Lauderdale, Fort Myers, Orlando and West Palm Beach will be cancelled throughout the weekend, while flights originating from Europe and South America that were scheduled to arrive Friday have also been cancelled.
Delta Cargo has resumed operations in Houston, but restricted its Caribbean operations and asked customers to check its website as it monitors the situation concerning Hurricane Irma.
While Miami Airport has pledged to stay open as long as possible, until winds reach 35mph, it has seen flights to the Caribbean cancelled.
Perishable specialist, Commodity Forwarders in Miami, told customers that its schedule will be normal today, but it will close early on Friday and remain shut through the weekend.
It advised: "We urge to schedule any freight arrival for Thursday and move any inventory out no later than Friday as we do not know what would be the conditions after the storm to be able to maintain our regular schedule."
On the ocean, Inchcape Shipping Services said all ports in Puerto Rico are closed, as well as the US Virgin Islands. All ports in Key West, as well as Fort Pierce, Miami, Port Everglades and Port of Palm Beach have been set at 'Condition Whiskey' – meaning they are open but with restrictions. Officials said the ports are currently open to all commercial traffic, but commercial vessels and barges greater than 500 gross tons should make plans to depart, whichever port they are docked at, in the event that the US Coast Guard upgrades to Condition Yankee.
Florida has lifted some trucking restrictions, allowing drivers to work longer hours.
South Carolina has issued a state of emergency, and Georgia's ports of Brunswick and Savannah said they were making preparations and taking the threat "very, very seriously". The ports expect normal operations through Friday, before they make emergency preparations for the storm.
Meanwhile home improvement chains Home Depot and Lowe's have begun to ship emergency supplies into Florida in advance of the hurricane landing. Home Depot has sent in 300 truckloads, and Lowe's 400 truckloads in anticipation of damage, following adherence to their disaster-response plans.