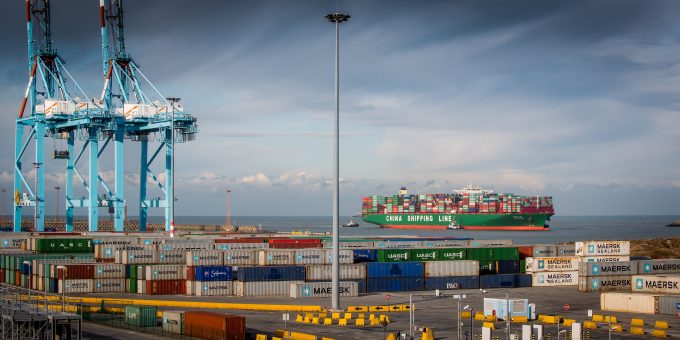 Congestion at North Europe's container ports is on the rise again, causing ocean carriers to juggle their schedules and restrict import and export operations at terminals.
Vessels are arriving at North European ports already delayed by supply chain disruptions in China, and with sanctioned Russian cargo remaining on board.
Maersk said today it was facing "critical yard density levels" at its Bremerhaven NTB terminal, adding: "This situation slows down the terminal operations, which will further delay our vessel arrival and departure schedules.
The carrier urged cargo owners with merchant haulage to promptly collect their containers, by the latest, five working days after discharge "irrespective of agreed free times". And warned that "the severity of the situation may force us to move your container" to an inland storage facility.
Elsewhere, many of the main container terminal hubs are suffering from terminal and landside congestion, attributed to the bunching of ULCVs and quaysides becoming overwhelmed with containers that require relaying to ports which have been omitted from schedules.
Container terminals at Zeebrugge and Wilhelmshaven are being used extensively by carriers to discharge containers from omitted ports, but there have been anecdotal reports that their facilities there are filling up fast with overlanded cargo.
Maersk also advised this week that its Samba service, between North Europe and Latin America, would omit the port of Le Havre for a further eight weeks, due to the "severe operational bottlenecks that we continue to observe across all main North European ports".
Furthermore, Maersk and others have today been forced to halt export loads from the MTL container terminal on Dublin's South Bank, due to chronic congestion.
"We are working with the terminal and feeder operators to try and relieve the congestion where possible," said a Maersk advisory, but a Dublin source told The Loadstar this morning "it was absolute chaos" at the facility and that he had never seen MTL so full of boxes.
"It's a disaster for Irish exporters and MTL has no idea when they will be able to receive boxes next," he added.
Meanwhile, a major North European container terminal source told The Loadstar recently that communication from carriers regarding vessel ETAs and cargo operations had "got worse, not better".
"There are a lot of last-minute decisions being taken on port omissions and where the overlanded cargo will be discharged, and we are often the last to be told," said the executive.
During a recent ports and terminals webinar, Drewry's senior analyst, Eleanor Hadland, said container terminals would in future have "more focus on contract terms" in any new agreements with carriers.
"There is probably going to be more attention to detail in the clauses of the terminal agreements, looking at the performance requirements of the carriers as well as the performance requirement of the terminals," said Ms Hadland.
"Terminals have incurred additional cost due to irregular ship arrivals and very high peaking factors, and these have been contributing to congestion within the terminals," she added.