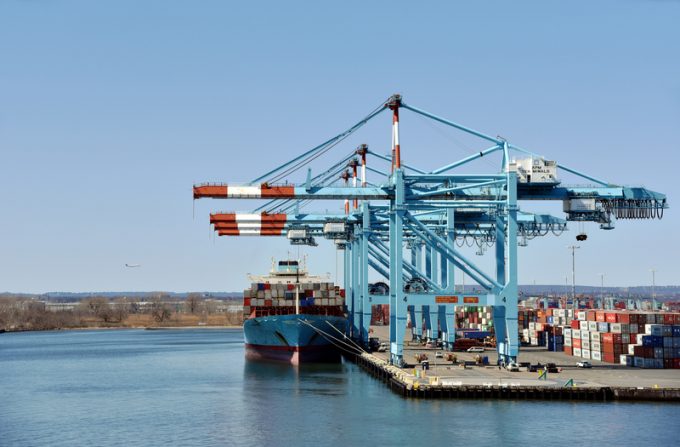 Transatlantic shippers can look forward to an increase in capacity on the trade, as both the 2M and THE alliances introduce larger ships.
According to liner analyst Alphaliner, 2M partners Maersk and MSC are upgrading the TA2/NEUATL2 service by replacing the five 4,800 teu ships with vessels in the 5,500-8,800 teu range.
It noted that the 8,044 teu Maersk Kotka had already been assigned to the service, with the 7,250 teu Maersk Serangoon set to join it this this week. They will replace the 4,822 teu Maersk Gairloch and 4,600 teu Cap Jackson.
And it appears a similar upgrade is under way on the TA1/NEUATL1 service, where the 6,478 teu US-flagged Maersk Hartford is set to replace the 4,822 teu Maersk Iowa.
"Average weekly nominal capacity for the three transatlantic 2M services will increase to 19,800 teu per direction this week, up 16.5% in three weeks' time," Alpahliner calculated.
The extra capacity comes in spite of the 2M's suspension of the TA4/NEUATL4 service until the end of the year.
"Cargo demand on the transatlantic seems to be slightly increasing as the partners of THE Alliance have decided to re-instate a voided sailing of the AL1 service," Alphaliner said.
It explained that the service, which has round-trip lasting five weeks, is currently only using three 4,520-5,100 teu ships, "resulting in a systematic blanking of two voyages in each cycle of five weeks".
But in response to growing demand, Hapag-Lloyd will deploy the 3,534 teu Gerhard Schulte for one round-voyage on the service, departing Hamburg on 25 October.
According to liner database eeSea, just two of the 65 sailings from North Europe to the east coast of North America scheduled for November will blanked, and just one of the 70 planned for December.
The database shows that in November, the 2M partners will be operating 11% over their pro-forma capacity due to the entrance of the larger ships, while THE Alliance will remain at 84%.
It also shows that the two alliances will each boast a 24% transatlantic market share in terms of capacity in November. The Ocean Alliance will have 18% market share, with the remaining 34% provided by carriers operating outside the alliance structure.