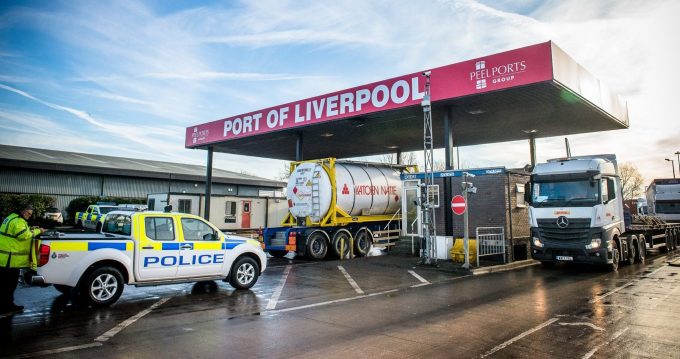 UPDATED 14.30 GMT, 1.3.2022. The UK has now enacted the legislation banning Russian ships from UK ports.
UK ports are being urged to refuse access to Russian-flagged, -registered, -owned or -controlled ships to aid efforts to get President Putin to pull his forces out of Ukraine.
A source also told The Loadstar that the Port of Rotterdam and Dutch Customs are blocking shipments to Russia on all exports, not just those under sanctions. (We will try to confirm this as soon as possible.)
Legislation to enforce the UK ban is expected and transport secretary Grant Shapps has written to all UK ports asking them not to provide access to Russian vessels, adding that "detailed sanctions" against Russian shipping were in the works.
Mr Shapps said: "Russia's assault on Ukraine is an unprovoked, premeditated attack against a sovereign democratic state. The maritime sector is fundamental to international trade, and we must play our part in restricting Russia's economic interests and holding its government to account.
"In these circumstances, we do not consider it appropriate for Russian vessels to to enter UK ports."
CEO of UK Major Ports Group Tim Morris said ports were liaising closely with the government as part of a coordinated sanctions response to Russia's invasion of Ukraine.
He told The Loadstar: "We must all play our part to stand against an unprovoked, premeditated attack. As ever, our ports remain open to all in safety and welfare critical situations."
A spokesperson for Peel Ports' operation at Liverpool told The Loadstar: "Peel Ports Group will continue to follow authoritative advice from the UK government and our approach will fully comply with any provisions across our marine and port operations."
While supported by port operators and industry bodies, the decision has raised questions over how the measures can be practically implemented.
Both the UK Chamber of Shipping and British Ports Association (BPA) expressed concerns that open port duty and contracts could make implementation "difficult in some circumstances", but the BPA added it expected it to only impact a "relatively small number of vessels".
A spokesperson said: "Open port duty and contracts could make this difficult in some circumstances, but we understand government is working on legislation to underpin it."
The UK Chamber of Shipping said: "It is right government considers a range of hard-hitting sanctions, banning ships with Russian interests from UK ports will put further pressure on the Russian president's military objectives. It will however be complex and require new legislation. We will work closely with HMG to ensure its measures have the best effect."
Sources told The Loadstar they expected emergency legislation to be pushed through parliament within a "few days", but queried Mr Shapps' "rush" to get this message out, given the "relatively small number" of Russian ships expected to call at UK ports in that time.
One source said there were reportedly 18 close to UK ports, but this did not tally with her own estimates. VesselsValue said today that there are currently "60 Russian-affiliated vessels heading for UK and European ports between 1st-4th March 2022, the majority of which are tankers and small dry vessels. Of these 60 , four are bound for UK ports; two tankers, one LNG vessel and one small dry carrier."
The source added: "The letter has political fingerprints all over it, as some of the language is quite unclear. What does "connected to Russia" mean? How are we meant to find this out and then prevent them coming in?
"If a port refuses a vessel with legitimate cargo that hasn't been sanctioned, it would be open to legal suits. It just doesn't really make sense, with the emergency law due imminently.
"I support the move, but if this emergency legislation is being pushed through at the rate we think it is, there really isn't any need to make this request, and the law is the best way of doing it."
According to the BPA, the UK handled some 12.6m tonnes of cargo to and from Russia in 2020, the bulk of which was hydrocarbons.