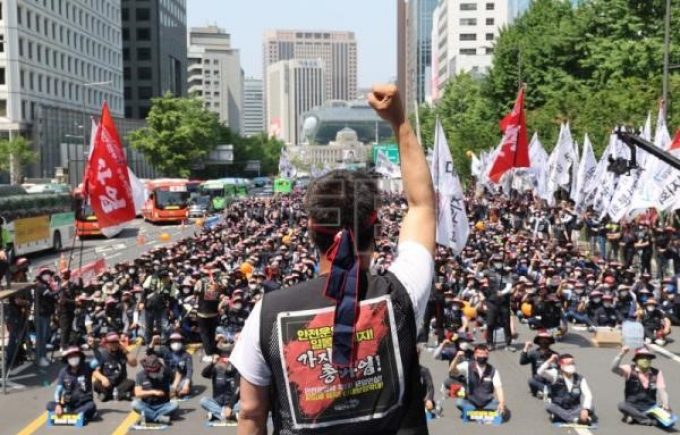 South Korea is counting the economic costs of the fallout from the intensifying truckers' strike, which is continuing for a third day as South Korea's largest port in Busan reported a major decline in cargo movements.
Unionised truckers, including cement mixers and car-carrying trailers, have stopped work while non-unionised drivers have not shown up for work in fear of reprisals from their trade union colleagues.
The steel, auto and cement factories have mostly suspended shipments due to difficulties in moving their cargoes.
The unionised truckers, numbering more than 20,000 are demanding that the Safe Freight Rates System, introduced during the initial Covid-19 pandemic in 2020 to guarantee minimum wages and prevent overwork and dangerous driving, be extended beyond the original expiry date of 31 December this year.
The International Transport Workers Federation is behind the truckers and is urging the South Korean government to resolve the matter.
But major South Korean shippers are suspending their shipments as it is nearly impossible to secure trucks.
The country's busiest container port, Busan, saw a sharp reduction in throughput, with only 5,418 teu moving through the port yesterday, down 75% from usual levels. Container storage occupancy stood at 75.2%, 5% higher than the May average.
In Ulsan, where Hyundai Motors is headquartered, failure to receive automobile parts has hampered vehicle production.
Hyundai Motors subsidiary, Kia Motors, sought government approval to get employees to drive completed cars (without licence plates) from its Gwangju plant in order to move the vehicles to other depots, as car carrier trailers are not available.
The country's two largest steelmakers, POSCO and Hyundai Steel, are experiencing delays in the transportation of a total of 70,500 tonnes of steel products.
POSCO is delaying the trucking of 30,500 tonnes of steel products and semi-finished products and is looking at activating more warehouse space to store goods.
Hyundai Steel has completely suspended the daily trucking of 40,000 tonnes of products after facing disruptions.
Cement producers saw their inventories accumulate due to the impossibility of moving their products, while construction companies found themselves short of supply as they were unable to receive products. The construction association in Jeju Island has cautioned that if the strike continues into next week, projects may have to be halted.
In Gangwon province, cement producers were compelled to store more cement in silos, but this can only be temporary as cement is vulnerable to moisture.
Police are intervening only to stop criminal activities during the strike. Yesterday, 15 people were arrested in Incheon for blocking trucks from entering a plant operated by South Korea's largest beverage company, Hite Jinro, while a few arrests were made in Busan, after striking drivers obstructed non-striking colleagues from working.