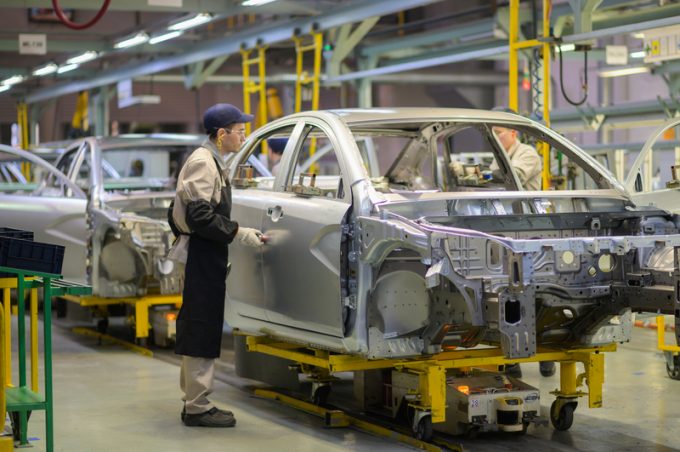 Britain's automotive sector has been "paddling furiously beneath the water line" to keep supply chains moving, thanks to the new trading arrangement.
Honda Motor Europe's senior VP, Ian Howells, and chief executive of the Society of Motor Manufacturers and Traders Mikes Hawes told the Business and Brexit Preparedness Committee that Brexit had been an exercise in "damage limitation".
"It's too early to speak of any tangible benefits from Brexit, most of the industry is looking at it in terms of damage limitation," said Mr Hawes.
"We've all been trying to manage supply chains, with the whole industry paddling furiously below the water, because moving goods is difficult, and the administration has become significantly complex – and I believe we are a sector that was as well prepared as any.
"Not having an implementation period which was meant to be 21 months, but which ended up being seven days, should make it understandable why business is suffering."
However, both witnesses said there were potential opportunities for UK business after its separation from the EU, with Mr Hawes pointing to a "window of opportunity" for the country's electric vehicle manufacturing sector.
According to the the agreement with Europe, tariffs on batteries for electric vehicles have been restricted in the short term, but will gradually increase.
"This auto-annex was incredibly helpful as batteries will be key to the 'Road to Zero' and the 'Green Deal' – both of which are gathering pace – so clearly, electrification of the supply chain is gaining in importance, and here we see opportunities," said Mr Hawes.
However, Mr Howell noted that regulatory divergence from Europe would create complications of its own. Furthermore, both expressed concern over the level of inconsistency on new border and customs protocols, with Mr Hawes noting that companies were seeing some trucks stopped, while others were allowed through, despite carrying almost identical loads.
Mr Hawes praised the UK for introducing import controls in three phases, but said the inconsistencies needed to be addressed with the final phase in July approaching.
Mr Howells added: "The overall way the border is working has been effective, but because we are operating a just-in-time model we need it to work very effectively to avoid any impact [notably stoppages].
"There have been inconsistencies… so we have taken some measures to ensure we can continue to operate around this – sourcing additional stock for example."