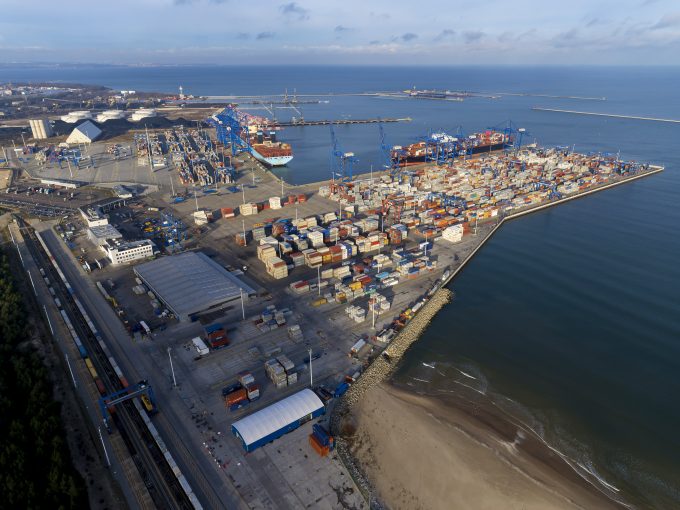 A strong 2018 means Poland's Gdansk has the potential to compete with the largest container ports in northern Europe.
Last year, the port handled some 2m teu, capping off a decade in which volumes surged 500% amidst global financial and Eurozone crisis.
Solid Logistics' Boleslaw Chelkowski told The Loadstar that, in recent years, the port had finally been able to offer genuine competition to the likes of Antwerp, Hamburg and Rotterdam.
"Last year we handled around 50,000 teu of sea freight as the port is growing fast and bringing with it a lot of opportunities," said Mr Chelkowski.
"A lot of shippers are consolidating their loads at places like Antwerp, Hamburg and Rotterdam, but Gdansk is finally becoming more competitive. It is a real alternative to the established north European gateways, and that has been a benefit to not only us but to the wider Polish export community and Polish goods," the freight forwarder added.
The 2M and Ocean Alliance both operate scheduled Asia-Europe rotations directly into the port, which has an 18-metre draught that provides year-round access for even the largest vessels, provided it remains ice-free during the winter months.
However, Drewry's senior analyst for ports and terminals, Neil Davidson, questioned Gdansk's ability to take on the more established gateways.
"Gdansk is already doing what it can and, as we have seen, has quite considerably grown its gateway traffic," Mr Davidson told The Loadstar. "I'm just not sure it can hit that next tier, as Hamburg offers carriers a critical mass through its much larger natural hinterland.
"For me, Gdansk's place is much more as a niche European operator serving transhipments into Russia – but even there it is competing with the likes of Hamburg."
Mr Chelkowski acknowledged that the Polish gateway faced stiff competition and believed more could be done to improve its chances. In particular, he points to historical issues surrounding infrastructure, with remnants of the Soviet era, such as differing rail gauges, continuing to cause supply chain obstacles.
"I believe government could help business out on this front; if it could look into improving infrastructure it would build our intermodal capabilities," he said.
"It's not all down to government, but it can certainly help, and it already is, as we are seeing increased train connections from places like Slovakia with Korean car manufacturers.
"If you can say to these companies, you can have your product in Gdansk by rail, they will talk to you, and from that point on it's up to business to win it."
However, with Hamburg finally appearing to be on the mend, after recording a 6.4% year-on-year growth in first-quarter container volumes, Gdansk may have its work cut out. Especially as the port's growth rate exceeded "noisy neighbour" Antwerp's 0.7%. In recent years it usurped Hamburg as north Europe's second-busiest container gateway.
A spokesperson for Hamburg told The Loadstar container volumes from China – its largest trading partner – had increased 2.1% over the three-month period.
"One in three of all containers handled in the port are for, or from, China," he said. "Complementing the excellent seaborne services, more than 235 connections by rail are now offered from Hamburg along the New Silk Road," he added.