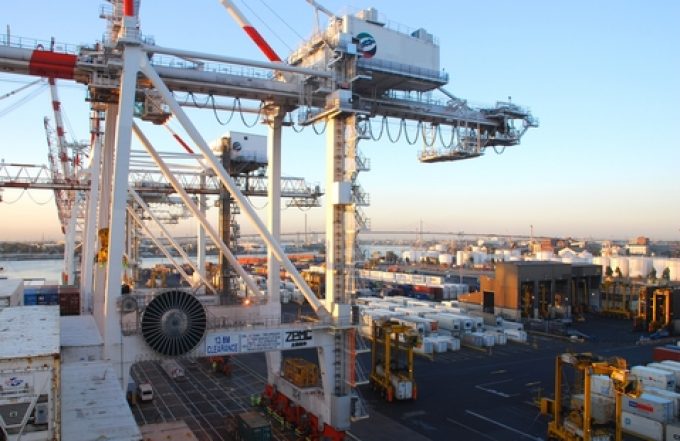 Australia's terminal operators have offset dwindling container volumes and quayside revenue by hiking controversial 'port infrastructure' charges.
According to the Container stevedoring monitoring report 2018-19, published today by the Australian Competition and Consumer Commission (ACCC), throughput at the country's terminals increased just 0.2% to 7.88m teu – the second lowest rate in a decade.
Furthermore, full container lifts fell 4.9%, compared with a 14.6% uptick in empty container lifts.
"Industry volumes were slightly better when measured on a teu basis, as cargo owners continued to increasingly adopt 40ft containers instead of 20ft containers," ACCC noted.
"The slowdown in container volume growth reflects weakening economic activity in goods distribution industries such as retail and manufacturing.
"In addition, the drought in eastern Australia and floods in Queensland negatively impacted volumes of various export commodities such as grain, hay and cotton."
The report says the increased competition between stevedores with the arrival of relative newcomers Victoria International Container Terminal (VICT) and Hutchison Ports, has seen the share of incumbents Patrick and DP World Australia (DPWA) decline to 82%, the lowest on record.
ICTSI's VICT was the biggest winner, doubling its share of Melbourne lifts to 15%, while DPWA's overall nationwide share declined from 44% to 39%.
Quayside revenue per lift continued a downward slide, falling 8.1%, year on year, to A$190.40 (US$131.35), reflecting the continued growth in shipping lines' bargaining power and the relatively high proportion of empty containers, ACCC said.
However, higher infrastructure charges, levied on truckers and passed on to cargo owners, helped drive the stevedores' overall growth in unit revenues for the first time since 2011–12, increasing 1.8% to A$268.50.
"Revenue from landside and other sources increased by 12.9% to A$78.10 per container, due mainly to increases in infrastructure charges. These revenues now make up 29% of the total."
The industry's total revenue generated from infrastructure charges jumped 63% to A$167m, while operating profit fell by 4.7% to A$81.3m.
ACCC said it was understandable for stevedores to seek to recover some costs from landside transport operators, but cautioned that they were earning a growing portion of their revenues from customers that have limited alternatives.
On Monday, the row over infrastructure charges spread to the west coast port of Fremantle, where DPWA announced it would increase the fee on laden containers from A$8.22 to A$45 from 1 January.
In a letter to customers, DPWA's general manager commercial Sean Barrett said: "Our industry is experiencing rising costs in the most dynamic and competitive market conditions in decades.
"Operating costs at Fremantle Terminal have risen considerably in the last five years. DPWA has continued to absorb the majority of these costs whilst focusing on productivity initiatives to offset the cost increases.
"These initiatives have delivered a 20% improvement in road efficiency for carriers and contributed to an increase in rail utilisation, however the material rise in costs can no longer be offset by productivity improvements.
"DPWA has also continued to invest at our Fremantle Terminal with more than A$16m in critical infrastructure to keep pace with industry expectations, and handle greater peaks and troughs in cargo arrival patterns."
However, Fremantle Ports chief executive Chris Leatt-Hayter responded: "DP World's action is disappointing, given the substantial effort both parties have made to reach agreement on the new lease arrangements over the past months.
"It also confirms Fremantle Ports' concerns about the level of future infrastructure surcharges if no agreed approach is in place under the new lease."